Editor's Note: This story is reprinted from GamePro. For more iPhone game coverage, visit Gamepro's iPhone section.
Super Stick Golf is the supercharged sequel to Stick Golf, a 2D golf game that has you navigating ridiculously complex and dangerous courses to drop the ball onto the green and into the hole. Every hole in Super Stick Golf presents a new challenge and forces players to think creatively to make it through the gauntlet in as few hits as possible. How to get the ball to that floating island? Should I bounce the ball off that wall to spin it safely over the green? The physics system in this game allows for tons of experimentation, making it less of a golf game and more like a really cool 2D platformer.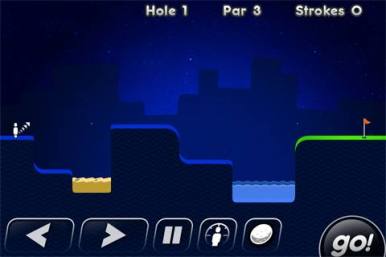 Super Stick Golf is the second game from Noodlecake Games. The other game, of course, is the original Stick Golf. Super Stick Golf is a universal app thanks to an update that was released shortly after launch, and it looks just as crisp and clean on the iPad as it does on any other iDevice.
Super Stick Golf includes every course from the original game, as well as a whole heap of new ones. But that isn't the only improvement that has been implemented in this sequel— This game does absolutely everything it could to improve on the original. The visuals are far more vibrant and colorful, it supports the Retina Display, it's a universal app, it includes Game Center, the option to use mulligans has been added (perfect for those really tricky shots I might've been too afraid to try before) and there's twice as much content. The list goes on and on, and I can't believe how much better it is than the first game, which I already adored.
Last August I reviewed the original Stick Golf, and gave it a perfect 5-star rating. The sheer joy of whacking the ball through the game's 100+ levels (all of which are deviously designed) made it one of my favorite early iPad games, but it looks like I won't be returning to it now that Super Stick Golf is out. There are 216 holes in Super Stick Golf, and both new levels and multiplayer are allegedly coming in a future update. All of that should last you a long, long time.
What doesn't work? I suppose I could whine about the fact that there isn't a level editor in this game (and man, that would've been really cool), but the fact is this is a near-flawless sequel.
At $0.99, Super Stick Golf is a steal. Seriously, this game is worth far more than a single dollar.
[Ryan Rigney is a frequent contributor to Macworld and GamePro.]
Note: When you purchase something after clicking links in our articles, we may earn a small commission. Read our affiliate link policy for more details.