Sony released two of the most inventive cameras of 2010: The NEX-5, a powerful compact interchangeable lens camera (CILC), and the SLT-A55, a DSLR with a translucent mirror. This week at the CP+ imaging trade show in Yokohama, Japan, Sony gave attendees a sneak peek into the future of its camera line.
The big draw was a revealing prototype of the next Sony SLT (single-lens translucent) camera, the A77. The upper mid-range camera will replace the three-year-old A700 in Sony's line-up. Sony decided to stick with the translucent theme and created a clear plastic mock-up of the camera that showed-off its key features: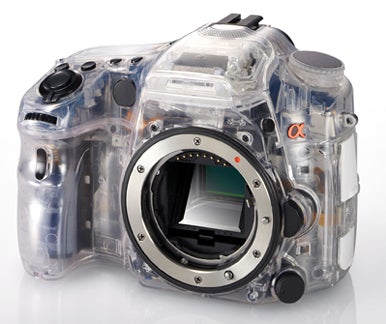 The A77 will use the same translucent mirror technology that made its debut in the A55, feature an APS HD CMOS sensor, and shoot AVCHD video. As with the A55, the translucent mirror will allow the camera to have continuous phase detection autofocus in Live View mode and while shooting video. A look at the prototype reveals a few other details, including an articulating LCD screen and a smaller LCD screen on the top of the camera. While official tech specs have not been released for the camera, it is rumored to have a resolution around 20 megapixels. Sony plans on releasing the camera later this year.
Sony also showed its plans for several E-mount lenses, which work on the NEX series of cameras and camcorders. A Carl Zeiss 24mm lens, a 55-200mm telephoto zoom lens, a 30mm macro lens, and a 50mm fixed lens are all scheduled to be released in 2011. A G-series 500mm f/4 telephoto lens is also under development and should be available in 2012.