I only recently reviewed Capcom's iOS port of Dead Rising, and here I am with yet another game starring the undead, albeit a very different one. In a game market that has been bombarded with all kinds of zombie-themed action, Stupid Zombies by GameResort is a straightforward, clean, and—dare I say it—adorable puzzle game for the iOS.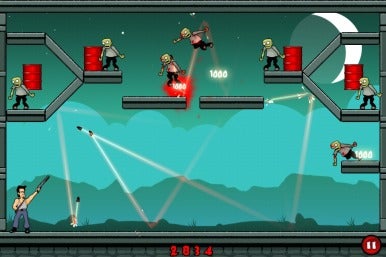 The point of Stupid Zombies is to shoot a set number of immobile zombies placed around the screen with a maximum of five bullets. Think of it as Angry Birds crossed with Army of Darkness. Because you are stuck permanently in the bottom left-hand corner, you aim by dragging the crosshair with your finger and shoot by lifting said finger. You can also tap anywhere on the screen to release a bullet. Bullets ricochet for a few hits amongst the walls, ceiling, and whatever else is included on the level (wooden planks and crates, tanks of gas that can explode, metal-coated barrels, etc.). Hopefully, if you find just the right place to aim at the perfect angle, you can take down several given zombies (sometimes all of them) with one bullet. The fewer bullets you use, the more points you get. You are also rated on how well you do, per level. Use all the ammo in one go and you'll be given the lowest rating of one star. Be economical with your bullets and master the physics around you and you'll get three stars.
There are four stages total, each spanning 60 levels. This means there is plenty of zombie killing to be had—more so if you want to go back and retry the levels using the least amount of bullets possible. Also, you do not have to completely finish one level to move onto the next, although they each require a certain number of star-points to unlock. There isn't much variation between the stages except for the different backgrounds. Each level can range from the clear-cut (as in zombies all lined up in a pretty row just waiting to be killed), to the brain-eating puzzling (as in it might take a few tries to figure out). More fun and frustration is to be had in the latter situation. If you do fail at killing all the zombies in level, all you do is try again.
With crisp and simple graphics and ominous background music mixed with the groans of the undead, Stupid Zombies is a nice puzzle game to have on hand. My only problem was that tapping and dragging on the touch-screen often obscured the exact aim of my crosshair. Also, I found it to be a little tedious after a while, but the surprise of a particularly complex level was usually enough to keep my interest. Nevertheless, compared to other zombie games, taking these undead down with a single gunshot wound (when we know, according to common zombie lore, that it takes more than that) is not only fun, it's also a no-brainer.
[Lynn La is a frequent contributor to Macworld.]