The man behind the Read It Later service for saving online articles thinks mobile devices like the iPhone and iPad are shifting when and where people are reading content—and he has the numbers to back him up.
It's no secret, of course, that the iPad is helping to drive the transition from print to digital media. There's certainly anecdotal evidence of the iPad changing our reading habits. But Nate Weiner of Read it Later has numbers that indicate when users are picking up their iOS devices to read all the content they come across throughout the day. And it could point to a trend that affects the ways online publishers present content.
Like Instapaper, Read It Later lets you save articles to review later on your computer or on a mobile device via free and paid apps. By running a centralized service that stores the articles we plan to read, Weiner has some unique insight into the habits of digital news consumers, including when we come across these articles, and when we actually get around to reading them. Weiner looked at 100 million articles that Read it Later's 3 million registered users have saved across Mac, PC, iPhone, iPad, and other supported platforms.
On the Read it Later company blog, Weiner shared some findings from his mountain of data. First, Read it Later users tend to save articles they come across pretty steadily throughout the day. Not much of a surprise there, as "we are bombarded with content every waking hour." When it comes to reading this material, Weiner found that users sitting in front of their computers tend to read these articles at two typical times: around lunch and later between 6 and 9 p.m., after work.
Things get a little more interesting, though, when Weiner examines data from iPhone and iPad users. He found that reading among iPhone users spikes significantly during the "in-between times," such as 6 a.m. (breakfast), 9 a.m. (morning commute), 5 to 6 p.m. (evening commute), and 8 to 10 p.m. (before bed).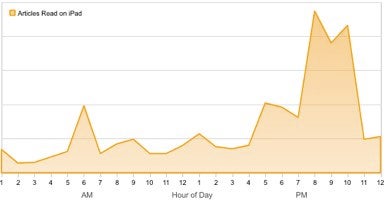 When it comes to the iPad, there is one decent spike during the 5-to-6 a.m. breakfast period, but a far more dramatic spike from 8 to 10 p.m., or what Weiner calls "personal prime time."
I e-mailed Weiner about his findings, and while he didn't want to share hard numbers, he would say that "there is a definite trend towards mobile reading." Mobile users make up the majority of his company's growth now, as "once users start pairing Read it Later with a mobile device, they begin shifting a large majority of their content to mobile."
Keep in mind, these results come from only 100 million articles on a single opt-in service that's built for users (and their devices) that are pretty hungry for content. But I asked Weiner if he thinks these findings could have an affect on how publishers handle their content.
"The shift we are seeing is in the times that we read," Weiner explained, but not when we originally discover the content we're reading. "Where I believe changes will be made is how publishers treat their content," he continued. "The focus needs to be on making content portable and encouraging this type of shifting. Write great content and then leave it up to the reader to decide where and when to consume it."
When you purchase through links in our articles, we may earn a small commission. This doesn't affect our editorial independence.