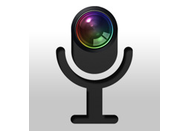 It's happened to all of us: you want to take a picture, but the right spot for that perfect angle is somewhere difficult for you to reach, like on a ledge or on top of a car. Or, maybe, you just want to take a group picture with your friends that is not destined to have a caption that ends with "not pictured: you."
You may be in luck, because Gamblus LLC has just released Camera Mic, a simple app that uses the iPhone's microphone as a trigger mechanism for taking pictures (think the Clapper for photography).
The $1 app works by continuously monitoring the input level on either the built-in microphone or a microphone plugged into the device's jack, and takes a picture when it detects a sharp noise. Thus, you can just position your phone where it's most convenient and clap or yell to take that beautiful, one-of-a-kind shot, or just rub your finger against the microphone for a firmer grip on the camera when taking pictures the traditional way. Once you're happy with your results, the app can also be used to share your creations with the world through Facebook, Twitter and e-mail.
If you happen to be in a noisy place—or if your friends sneeze alot—the app may take a few extra shots that you did not expect, but, unlike the good old days of film, this won't cost you more than a few minutes spent sorting through your photo album.
Judging from its iTunes page, Camera Mic has a few rough edges that cause the occasional crash; in addition, it doesn't yet support the use of Bluetooth microphones, which would be beneficial for group pictures in which the mechanics of the shot require a bit more range. The developers, however, have promised that an update on its way, complete with bug fixes, support for both front and back cameras, and compatibility with Bluetooth input devices.
Camera Mic costs $1 requires an iPhone, iPod touch, or iPad running iOS 3.1 or higher.