Editor's Note: This story is reprinted from GamePro. For more iPhone game coverage, visit Gamepro's iPhone section.]
In a surprise release by EA Sports, the storied NBA Jam franchise has made its way to the iTunes App Store completely intact. This iOS port has all of the playable characters you'd expect from the console versions of the game, including special characters like mascots and political figures like President Obama and Sarah Palin. The classic two-on-two game comes packed with a campaign mode, dozens of challenges that allow you to unlock legendary players, and a classic "play now" option for whenever you feel like dunking a burning basketball over the enlarged heads of some AI opponents.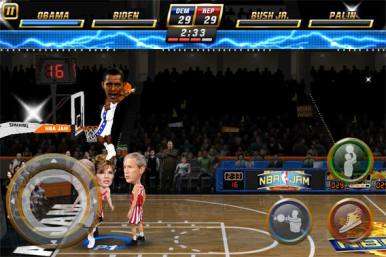 NBA Jam uses three virtual buttons (turbo, jump/shoot, and steal/shove) as well as a virtual stick for movement, and that all works surprisingly well. With that established, I can now ramble on about how incredible this game's presentation is.
Everything from the way players move to the shouting announcer who knows the names of every single player ("Obama goes for the three-pointer!") smacks of a game that should cost far more than $5, especially by App Store standards. Big head mode is hilarious (as always), and it was hard not to yell "BOOMSHAKALAKA" every time I leapt over a dude to dunk my flaming ball in the net. It's goofy, but also really enjoyable on a "gamey" level. You really feel like you've accomplished something when you pull of a three-pointer shot or an epic, high-flying alley-oop.
The problem is the lack of multiplayer. This game does so much right, and then it completely overlooks what is arguably the most important feature to the franchise. Whenever people think of NBA Jam they undoubtedly think of on-the-couch versus matches and co-op comp stomps, and while that isn't really possible on the iPhone because of its screen size, it would've been nice if they at least included local wi-fi multiplayer, much less online. Here's hoping that comes in an update.
It might not have multiplayer, but there are a ridiculous number of challenges to play through as well as a lengthy campaign that you'll want to try out on numerous difficulty settings. Even after all that, playing against AI opponents should keep you occupied for a good, long time.
NBA Jam costs $4.99, and (as I said before) that seems too cheap to be true. Aside from its unfortunate lack of two-player options, this is a complete package that controls beautifully and has production values that could easily rival that of the Wii version's. Even if you're not a huge NBA fan, this is a basketball game that can stand on its own based purely on the fun offered by its mechanics.