Have you ever wanted to walk on walls? In Broken Rules' And Yet It Moves, a Mac game available on the Steam online gaming service ($10) and Mac App Store ($5), you can do just that. Originally created during a computer science course at Vienna University and later adapted for various mobile platforms, the game is a physics-based platformer that will make you question your spatial orientation while delivering you a challenging but engaging experience.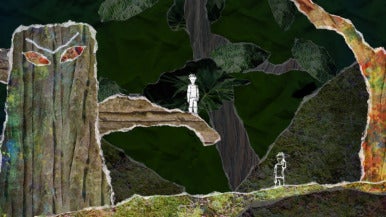 And Yet It Moves is a 2D sidescroller with a distinctive visual style and even more distinctive gameplay mechanics. You control a paper cutout boy that journeys through a world made out of paper collages. The collages form interesting backdrops (mostly backdrops that look like forests, volcanoes, and rock formations) and mind-bending walking trails.
At the beginning of most levels, you start on a horizontal dirt path. As you walk, the path will start to bend, twist, turn upside down, or turn sideways. However, you must obey the laws of physics, you can't just continue along the path and bend with it. Everything you walk on must be horizontal, and you make the platforms horizontal by using the keyboard's arrow keys to twist the game's world around. For example, you may come across a 90-degree cliff on a trail. In such a situation, you walk off the cliff, and just when you starts to fall, you tilt the game world 90-degrees so that the cliff's wall can catch your feet.
The game's levels are maze-like, filled with twists and turns. In one level alone, you may have to jump from a horizontal trampoline to a vertical trampoline, jump from a ceiling to a floor, and jump from the opening of a cliff to its wall. If you fail to make any jumps, you may end up in one of several black holes that line the levels—fall into a hole, and you return to area of trail he previous conquered.
No game level is exactly the same, though some more similar than others. There were periods where I would play three or so levels that seemed very much a like. However, after these periods, the game would deliver a level with twists and turns that seem almost impossible to conquer.
If you're not directionally skilled, the game will likely be very challenging. I am one of those guys that if you tell me to turn right, I will turn left. The game was very challenging for me, though I loved figuring out how to play it. There is something very pleasing about being able to make something walk on walls, and being able to turn upside down right side up. You also get to refine your reflexes while playing the game. If your going to be walking off cliffs, you have to learn to be quick with your hands so that you can quickly bend the game world to avoid disaster.
And Yet It Move's trial-and-error nature is a little frustrating, and there are parts of the game that are really hard to master. During my time with the game, I found over 15 obstacles that took about 10 attempts to successfully jump over. Though there is nothing wrong with challenging obstacles, they can really slow your progress in the game. For some people, the game's trial and error aspect will be really appealing, but for me, I found the margin of error to be too thin.
And Yet It Moves' unique art style is one of its most defining features. The paper collages are filled with paper trees, caves, rocks, and plants that are visually stimulating to look at. Each are painted in vibrant greens, reds, and grays. Though the game appeared a little dark running on my 2GHz Dual Core iMac's ATI Radeon X1600 graphics processor, the darkness created an a good atmosphere for me to play the game. The world is so strange, it seemed to me it needed some darkness to reflect its peculiar nature.
Macworld's buying advice
And Yet It Moves employs beautiful visuals and unique physics mechanics to produce an excellent game playing experience. You may get a little dizzy playing it, and but it will feel challenging. It's one of the better games in the puzzle and physics genres.
[Sam Felsing is an editorial intern for Macword.]