Samsung has launched the Galaxy S II, which is equipped with a dual-core processor, an improved screen and faster Internet access using HSPA+ (High-Speed Packet Access).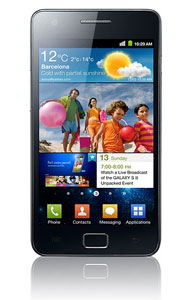 Like LG Electronics, Samsung is also adding a dual-core 1GHz processor to its new flagship smartphone. The Android 2.3-based Galaxy S II also has a 4.3-inch screen with a 480 x 800 resolution, according to a company statement. The screen is based on an improved version of Samsung's Super AMOLED technology, which is supposed to consume less energy while offering better image quality when using the phone outside and looking at the screen from an indirect angle.
The smartphone measures 125 x 66 x 8 millimeters at its thinnest point — just like the existing Galaxy it has a small bump at the bottom — and weighs 116 grams. The back camera has an 8-megapixel resolution and LED flash and the front camera has 2-megapixel resolution. The camera can also be used to record videos at 1080p at 30 frames per second.
Storage is either 16 GB or 32 GB, and an additional 32 GB can be added using a microSD card.
The Galaxy S II can access the Internet using Wi-Fi or HSPA+ at up to 21M bps (bits per second). User will, for example, be able to take advantage of the faster speed when viewing streaming video or playing online games, according to Samsung. The speed increase should also be a boon to users when accessing the Internet using the integrated Wi-Fi hotspot. The list of supported Wi-Fi standards includes 802.11 a, b, g and n. Using Wi-Fi Direct, the smartphone can connect to set up a point-to-point connection with other compatible devices without the use of an access point.
Just like on the Nexus S, Samsung has added NFC (Near-Field Communications) to the Galaxy S II. The most talked-about application for NFC is payments. But the technology can be used for other things, including sharing information between two devices when they are close. The phone will also come in a version without integrated NFC, which will allow operators to put the communications technology on the phone's SIMcard instead.
On the content side, Samsung has added a game hub and a music hub, which includes over 12 million tracks from partner 7digital.
The device will start shipping in some markets in February. There was no word on a U.S launch. Pricing was not disclosed.