As a musician with both an iPhone and an iPad, I'm very interested in music-related apps, especially those that appeal to both musicians and non-musicians alike. Until now, only the cute and quirky BeBot – Robot Synth has wowed me. However, I can now add Amidio's $10 Seline HD to that list. It's not quite as cute as BeBot, but it's every bit as quirky, and that's a good thing in my opinion.
Like BeBot, Seline HD is a multi-voice synthesizer that provides loads of interesting audio (and visual) effects. However, unlike BeBot, it employs a keyboard-like interface that provides a much greater degree of melodic control. This keyboard abandons the standard piano metaphor and uses instead what the developers call the "ioGrid"—it provides 16 notes (8 per hand) organized in grid-like fashion. Each key plays one note in one of 25 available scales (you can also create your own) using any of 23 voices.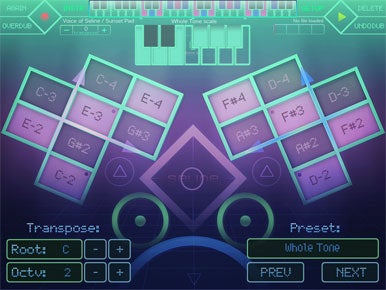 Sitting between the two keypads are several expression controls. One on either side, closest to your index fingers, adjusts the pitch of the current note upward by one note, while another at the bottom, by your thumbs, adjusts the pitch downward by the same interval. Combining these keys with a standard note lets you easily embellish your melodies with trills and passing tones. Sitting between those buttons is a virtual knob that, when moved up or down, adjusts the pitch in glissando fashion; move it left or right, and you create a vibrato effect. A pair of joysticks controls the attack of each key, and the keyboard is sensitive to your touch, allowing you to produce vibratos and swells simply by holding into a note or vibrating your fingers.
You can play melodies and chords solo or, if you prefer, you can turn on the drone, a background chord generated automatically based on your scale and the melody you're playing. This is the mode I play in most of the time, since I play alone and like the background accompaniment. However, if you know other iPad-toting musicians, you can get together and play your own compositions, as demonstrated by the iPad Orchestra. Or you can record your solo compositions and overlay tracks to create orchestrations of your own.
It is very difficult to describe an instrument like Seline HD in words; you must really see it—and hear it—in action to understand all the capabilities it offers. In addition to the previously mentioned iPad Orchestra video, another great demonstration of Seline HD has been produced by keyboard virtuoso, Jordan Rudess of Dream Theatre fame. The developer provides an excellent video overview as well, and the app's built-in tutorial is also very good.
At $10, Seline HD is not a super-expensive app, but it may not qualify as an impulse purchase for most people. However, if you enjoy making music, whether or not you consider yourself a serious musician, I think you'll find Seline HD is well worth the money.
[Brian Beam is a musician, Drupal web developer and partner with BOLD Internet Solutions, living somewhere near Kansas City.]