On Thursday, game publisher PlayFirst announced that its newest iPhone game, Egg vs. Chicken, is now available on the iOS App Store for $1.
A combination puzzle/action game, Egg vs. Chicken features chickens and eggs that battle it out in order to answer the classic philosophical question, "which came first, the chicken or the egg?" As chickens try to swarm an "egg fort,' the game's players must match similar colored eggs together and then hurl them at the chickens to protect the fortress.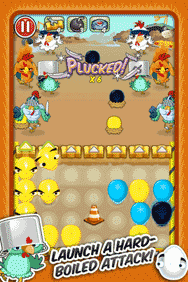 Egg vs. Chicken comes with 36 levels for players to handle. During their game playing experience, players get the opportunity to battle 10 different types of chickens and hurl nearly seven different kinds of eggs. Players also get to fight the chickens while fires, lightening and ice storms rage in the game's background.
As they begin to master egg hurling, players can earn special bombs, fort repair kits, and egg upgrades to make their battle with hens and roosters easier. Though not likely to appeal to bird lovers, poultry haters might get a kick out of Eggs vs. Chicken.