Editor's Note: The following review is adapted from Five Star Apps: The Best iPhone and iPad Apps for Work and Play by Glenn Fleishman. (2010, Pearson Education and Peachpit Press).
My kids wake up too early. When daddy's not ready to open his eyes all the way, and the young ones are clamoring for attention, Tozzle can score me an extra half hour of shuteye.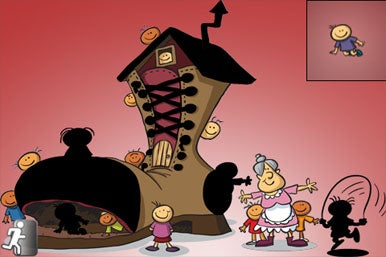 The game from Nodeflexion.com offers more than 35 colorful puzzles. New pieces to fit into the puzzle are presented one at a time, and you (or more likely, your toddler) simply drag the object and drop it into position. Every puzzle piece you place triggers a silly sound effect or cheer.
If you can't figure out where to position a tough piece, Tozzle eventually shows an arrow to guide you in the right direction. Puzzles become interactive once you solve them: the musical instrument or virtual machine you've assembled can be played or operated.
A cleverly implemented dragging mechanism prevents kids from dismissing the puzzle they're working on accidentally. That's not to say one clever youngster couldn't figure out how to do it—intentionally!—when ready to switch to a new puzzle.
The puzzles range in difficulty. Easier ones feature a few big animal shapes or letters, while more complex ones require dozens of pieces—some of them quite small. The puzzle pieces are perfectly suited for kids' tiny fingers.
As an added bonus, the game should boost shape recognition and fine motor skills. But the most important part is simple: it's pretty darn fun. A free version features just a small handful of puzzles, but is otherwise identical.
While Tozzle is an iPhone/iPod touch-optimized game, it looks just fine double-sized on my iPad, like many kids' games.
[Glenn Fleishman is a frequent contributor to Macworld.]