If you're an iPad-toting 3D modeler, Michael L. Farrell's Verto Studio 3D could be what you need for those times that you're on the go.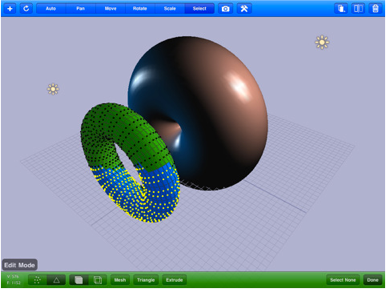 Verto Studio 3D is a full-featured modeling app designed to offer much of the functionality of desktop 3D software. It combines 3D modeling, lighting, and texture mapping with the iPad's touch interface, and offers useful features like real-time Gouraud shading, dynamic lighting, self illumination, vertex editing, multiple camera angles, and an Auto mode for manipulating every object in the scene simultaneously. It also supports the import and export of OBJ format files, so you can use your existing wire mesh models or create your own in the app.
In contrast to the complex interfaces of typical 3D modeling software, Verto Studio 3D's menu bar sports a relatively sparse 15 buttons. A group of six buttons—Auto, Pan, Move, Rotate, Scale, and Select—controls movement, while the other eight—Add Object, Undo, Camera View, Material Properties, Duplicate, Mirror, Edit Object, and Trash—take care of most of your other needs. The interface takes advantage of the iPad's touchscreen display, with most of its tools supporting various tap, swipe, pinch, and twirl gestures.
The Add Object drop-down menu lets you create a plane, sketch, cube, sphere, terrain, torus, and light. The Undo function allows for multiple undo actions, and the Camera View provides six standard views plus a variable view, with a choice of normal perspective or orthogonal projection. The Material Properties drop-down menu gives you precision control over RGB components of four types of lighting (Diffuse, Highlight, Emitted, Ambient), as well as selection and tiling of Texture Maps.
When you have an object selected, the Edit Object drop-down menu gives you control over vertexes, meshes, triangles, and extrusion. With any light selected, the Edit Object menu lets you control the lighting type, position, direction, intensity, angle, attenuation, color, and more.
Verto Studio 3D costs $8 and requires iOS 4.2 or later.