At a Glance
Expert's Rating
Our Verdict
If you haven't noticed by now, we love Dropbox, the combination of app and Web service that seamlessly syncs data between your Macs, the cloud, other Dropbox-configured computers, and even your iOS devices. Which is why we're asking how you use Dropbox—we're working on a series about getting even more out of the service. Consider this the first installment of that series, because today's Gem offers a simple way to add functionality to Dropbox.
One of the frequent criticisms of Dropbox is that it requires you to store your synced data in a particular location—the Dropbox folder. You can place that folder anywhere you like, but anything you want Dropbox to sync must be placed inside that folder. Compare this with SugarSync, which lets you choose particular folders to sync, no matter where those folders are located. (The downside is that, whereas Dropbox integrates directly with the Finder and just works, with little to no setup, SugarSync's folder-picking feature requires you to use a not-so-simple screen in a separate utility to configure those folders.)
It turns out that Dropbox can sync folders located outside your Dropbox folder, but doing so requires the magic of Unix symbolic links (similar to, but not exactly the same as, Mac aliases). If you create a symbolic link to a folder you want to sync, and then place that link in the Dropbox folder, Dropbox will sync the original folder wherever it resides.
Unfortunately, creating symbolic links isn't as simple as making an alias in the Finder. The "official" way is to use the ln -s command in Terminal; alternatively, I've covered a Mac Gem, SymbolicLinker, for creating such links. But when it comes to Dropbox, the easiest way I've found to perform this procedure is to use the free utility MacDropAny.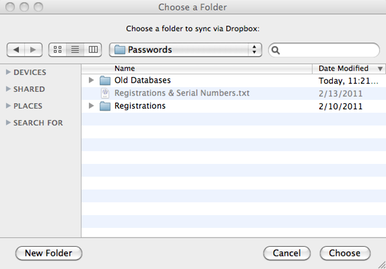 MacDropAny gives you two Mac-friendly ways of creating a symbolic link for a folder you want Dropbox to sync. The first is to launch the utility and then use the file-navigation dialog that appears to choose the folder you want to sync; you then get a second dialog that lets you choose where in your Dropbox folder you want the symbolic link to be located. MacDropAny also asks you for a name for the symbolic link—the link can have a different name than the actual folder you're syncing—and then gives you the option of seeing the newly created link in the Finder.
The second method is even easier: Just grab the folder you want to sync and drag it onto the MacDropAny application icon. You then just choose the destination for the symbolic link and, if desired, its name.
Once you've performed this procedure, the folder in question is automatically synced to the Dropbox servers and to your other Dropbox-configured computers and devices. On your other computers, you see the actual folder and its contents—not a symbolic link—letting you access and modify the data inside the folder; changes are immediately synced back to the original Mac.
There are a few caveats to keep in mind when using symbolic links with Dropbox. First, if you're thinking of linking to your Applications folder to sync your applications between your Macs, don't. Besides Mac OS-specific issues that may arise, there's currently a known issue with Dropbox when syncing of hundreds of thousands of files. (Each Mac application is actually a bundle of many—even thousands—of files, so your Applications folder would easily trigger this issue.) Similarly, don't link to your iPhoto library. Second, don't link directly to a file; link only to folders. Linking to a file can result in the symlink being replaced by the file itself when syncing. Finally, and perhaps most important, if you later decide not to sync a linked folder, be sure to delete the symbolic link only from the computer on which it was created. If you delete the folder from a different computer, the next Dropbox sync will delete the linked data on the original computer, as well, even though the original data isn't located inside the Dropbox folder.
Want to stay up to date with the latest Gems? Sign up for the Mac Gems newsletter for a weekly e-mail summary of Gems reviews sent directly to your Inbox. You can also follow Mac Gems on Twitter.