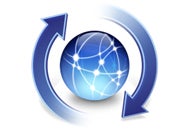 While Apple's announcement of subscriptions coming to the iOS App Store was certainly the major news from Cupertino on Tuesday, Apple also released a small update to its iWeb Web-publishing software.
iWeb 3.0.3 contains "bug fixes and improvements," and Apple specifically calls out the following changes:
Addresses an issue when using the iSight Movie widget on certain Macs
Addresses an issue publishing iWeb sites using FTP
Improves compatibility with Mac OS X
The hefty update (185.9MB on my Mac Pro) is available now via Apple's Website or through OS X's Software Update mechanism (Apple doesn't sell iWeb on the App Store).
Development of iWeb has slowed to a crawl in recent years. You may recall that when iLife '11 was released in October 2010, iWeb was one of two applications that Apple didn't rev in the updated suite (iDVD hasn't been updated since iLife '08 back in 2007).
When you purchase through links in our articles, we may earn a small commission. This doesn't affect our editorial independence.