From the cool white tones of Kubrick's 2001, to the vivid colors of a van Gogh painting, some of the greatest works of art have a signature feel associated with them. PhotoCopier, a universal app for the iPhone and iPad from Digital Film Tools, allows you to apply a wide variety of filters to your photos, giving them a look inspired by many of masterpieces of the art world.
PhotoCopier works by applying a combination of color, tone, grain, texture, detail, and vignette to each photo. Digital Film Tools has studied the characteristics of some of the world's most beloved films, paintings, and photos, and created a unique preset for each piece of work.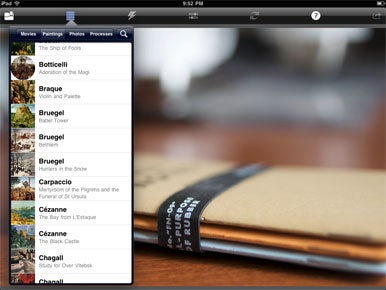 When you open a photo from your camera roll, you can select a filter from four sections—Movie, Painting, Photo, or Process. There are more than 90 movie presets ranging from sci-fi movies like 2001 and Minority Report, to classics like Mary Poppins and The Bridge on the River Kwai. The painting group allows you to choose from more than 70 of the world's most famous paintings such as da Vinci's Mona Lisa and Van Gogh's Starry Night. There are also more than 40 choices from a wide range of famous photographers (though not necessarily names that are as instantly recognizable as some of the painters and movies).
The final Process selection, allows you to pick from a number of specific photographic film and camera techniques, such as emulsion lifts and salt prints. Given the breadth of choices, the process of selecting a preset would be improved by showing larger thumbnail images. As it stands, when the preset menu drops down, the name is much larger than the associated work of art. Many of the differences are subtle, and having an easier visual way to distinguish them would be an improvement.
Selecting a photo, choosing a preset, and applying it to your image can just be the starting point with PhotoCopier. (You can always save the image at this point, with no further adjustments.) Once the preset is applied, sliders appear on the screen that allow you to fine tune any aspect of the filter that you've applied. (Tapping and holding on a slider will allow you to enter a numeric value, for more specific control.)
On the larger screen of the iPad, all sliders appear on the screen at once; on the iPhone, the controls are separated into three areas (color, texture, and vignette), with the slider controls appearing under each section as you tap it. If you like the color palate of Ben Hur, but would like to see it with more grain and vignette, you can adjust the image further to give it a new, unique look. Tapping the lighting bolt icon on the top menu quickly toggles between the original and edited image, so you can compare results.
The biggest obstacle to overcome with PhotoCopier may be the amount of options the $2 app provides. If you're an expert in art history, you may know that you prefer the tone of Cézanne's The Bay from L'Estaque more than his The Black Castle. But if you're an average user, the amount of preset choices can seem overwhelming, and often appear very similar.
The variety of choices PhotoCopier provides and the results it produces are very impressive. Whether you want to use one click to add a classic movie preset to an image or use a famous painting as a starting point for custom editing, the app makes it easy. Like most photo-editing apps, you'll really appreciate seeing your image on the iPad's larger screen as you edit, but the app works essentially the same on all iOS devices. There is room for improvement while finding a preset to use, but once you get past that, you'll have fun replicating the tones of so many famous works of art with your own photos.
[Macworld contributor Beau Colburn lives in Brooklyn, NY and posts iPhone photos on his site Snap different.]