When I worked for Kodak two decades ago at a creative teaching outpost in Maine, I heard many stories about losing pictures. The worst was from a teacher in his 40s: as a young man, he had moved to Manhattan, only to have his apartment building catch fire his first night in town. All his equipment and original photographic work was destroyed. He had to start over.
While the advent of digital cameras has made it easier for photographers to protect and back up their images, you still need a plan. By augmenting your photo collection's physical backup with one or several of the following online systems, you can keep your memories intact.
Back up on the go with an Eye-Fi card
Your photos are at greatest risk of loss immediately after they've been taken and before they've been transferred to at least one other location. If you're unable to offload your memory card to a computer or external drive right away, you might find use in a wireless upload system like the Eye-Fi.
Available in several sizes and versions ranging in price from $50 to $150, the Eye-Fi is an SD card with built-in Wi-Fi radio that looks and records just like any other memory card. After shooting, the card uses a secured Wi-Fi network you've pre-configured, or one of Eye-Fi's for-fee hotspot locations, to upload your photos to a photo sharing site or a computer. Every Eye-Fi model can transfer JPEGs and several kinds of movie files, while the most expensive card—the Pro X2—can also handle raw files.
To get started, set the Eye-Fi's preferences and preferred Wi-Fi networks on your computer. The card can connect to any protected network within range that you denote, in addition to any open hotspots. You can also use a number of for-fee hotspot locations by paying a yearly fee of $30, or by buying an Eye-Fi Explore X2 or Pro X2, as either card comes with a year's hotspot access for free.
After configuring, you're ready to slide the Eye-Fi card into a camera and start snapping. When the card is full, head over to one of your designated Wi-Fi networks to have the device connect and transfer your images.
An Eye-Fi card can upload photos to 25 photo-sharing and social-networking sites, including Facebook, MobileMe, and Flickr. It can also transfer images directly on to a computer on which you install its configuration software. If you'd rather not upload everything on your card, the Eye-Fi software can be configured so that only tagged images and videos are sent.
You can set the card to email you or send an SMS when an upload is complete. Some camera models will even recognize when an Eye-Fi is inserted, and ignore power-saving settings by staying on until all uploads have finished.
The company also offers a service called Eye-Fi View, meant for sharing and basic backup. Seven days' history are included at no cost, while a year's worth of unlimited storage and photo/video-sharing is $50.
Sync to the cloud with Dropbox or SugarSync
Cloud-sync services—which allow you to wirelessly transfer and store data online—have become both affordable and popular in the last few years. Most of these services are built around the idea of folder syncing: You drop the files you'd like to copy into a specific folder on your computer, and the application will then automatically upload these files online for future access. Not only do these services provide an easily accessible duplicate copy of your file on almost any computer, but they're especially useful for storing photo libraries.
With a service like Dropbox or SugarSync, you can store a copy of your iPhoto or Aperture library in a synced folder, or duplicate individual photos to the folder for off-site redundancy. As an added advantage, photos taken on an iPhone or iPod touch (fourth-generation model), or transferred to any iOS device can be uploaded via Dropbox and SugarSync's iOS apps. This is great for photographers using the iPad to store photos in the field.
Dropbox offers 2GB of storage at no cost, and charges $10 per month for 50 GB and $20 per month for 100 GB. Multiple versions of a file and deleted files aren't counted against those totals. Dropbox backs up older versions and deleted files for 30 days; if you're a paid user, you can enable the Pack-Rat option in Preferences to keep these files forever.
SugarSync has a 30-day free trial with 30GB of storage or a 5GB free plan. Its paid offerings run from $5 per month for 30GB up to $40 per month for 500GB. Deleted files are retained until an extra step is taken to remove them permanently.
Use your online sharing site as an archive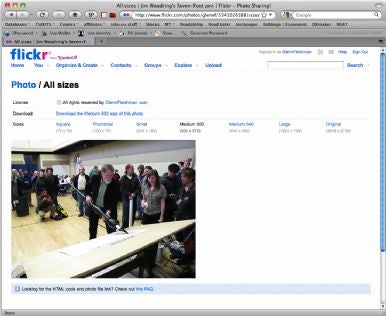 Even though photo sharing services—like Flickr and SmugMug—may not be the most reliable primary backup method, they work fantastically as a supplemental prong in your backup attack.
Flickr's paid service, Flickr Pro, is $25 per year for unlimited photo and video uploads (including high-definition video), although movies may not exceed 90 seconds. Images may be up to 20MB each, and videos up to 500MB each. Flickr stores the original file for GIF, JPEG, and PNG formats. Other file types are converted to JPEG for storage.
Unless you request that the company erase your account (or it accidentally deletes the wrong flagged account), Flickr should never delete your photos, even if you don't renew the membership. Unfortunately, without a Pro subscription, Flickr doesn't work very well as a supplemental backup option, as you can't retrieve more than the 200 most recent uploads, and retrievals are down-sampled from the original size. You can restore or gain access to your pictures, however, by subscribing to Flickr Pro.
Everything you put into Flickr can also be extracted—either one photo at a time or in bulk—along with the image metadata. A third-party service, Qoop, offers a variety of options, like photo prints and picture books, but also can create DVD backups from your Flickr data for $15 per CD or $20 per DVD. I tested this and my collection of over 9,000 photos would fit on just five DVDs. Other retrieval methods are also available.
SmugMug offers three paid options: Basic ($5 per month), Power ($8 per month), and Pro ($20 per month), with discounts for paying a year at a time. All accounts allow unlimited uploads of JPEG, PNG, and GIF images (up to 24MB per image). The Power and Pro accounts support HD video uploads of up to 10 minutes long. The service has a Download All option for each gallery, which creates an archive that may be downloaded via a link sent through e-mail.
While Flickr only lets you upload images in JPEG, GIF, or PNG form, SmugMug also offers its SmugVault service for backing up raw files, PSDs, and videos. SmugMug charges for storage and data transfer separately, as well as a fixed $1 per month fee. It costs $0.22 per GB stored each month, $0.30 per GB for moving photos into storage, and $0.51 per GB for copying photos out of storage. Granted, SmugVault is convenient, but quite a bit more expensive than a non-photo-centric online backup.
Double-up with cloud and local backups
If you'd rather not spend money on a photo-centric service and would like to instead incorporate your image backups alongside the rest of your files, CrashPlan—which allows you to back up your computer to a local drive or over-the-air to the company's servers—can help.
The CrashPlan software is free for local backups to a hard drive connected to a computer. You can also use the software to back up over a local network or the Internet to store files on a drive on another computer you own also running CrashPlan, or even a computer owned by a friend or colleague. (Many people trade peer-to-peer backup service to get an offsite copy of their files. These backups are encrypted, so your friend can't view your files, even though they're stored on his or her system.)
CrashPlan+ brings additional features to the software—such as scheduling options and better encryption—but more significantly, it adds Internet-based storage. Backing up no more than 10GB from a single computer ranges from $2.50 per month to $1.46 per month if you opt for a four-year contract, paid in advance. Unlimited storage for one computer is $5.00 per month ($2.92 per month with a four-year contract). Unlimited backing up for 2 to 10 computers runs $12 per month (down to $6 per month for a four-year contract).
The 3.0 release of CrashPlan+ lets you create backup sets, so you can store a full backup of your computer on a directly connected drive, while sending just documents and other media over the Internet to reduce bandwidth use.
And that's a concern. Some Internet service providers charge extra or will cut you off if you exceed a certain amount of usage in a given month, which can be easy to do when you're handling your initial backup. Comcast, for instance, caps usage at 250GB per month, and will cut you off for a year after two consecutive months of going over that limit.
One way around this is to pay $125 to $165 (varies by shipping) for CrashPlan to send you an empty 1TB drive for making your initial backup. After doing so, you ship the drive back to them, and they'll seed your archive with those files.
If you need to restore your files, you can do it directly through CrashPlan's software to your computer, or if you'd like a hard copy, you can pay for the company ship up to 1TB of compressed files back to you.
Macworld has recommended CrashPlan in two successive roundups of Mac-oriented backup services and software, and its pricing works well with large volumes of images and video to back up. (We reviewed CrashPlan in 2009, and then took a fresh look at the 3.0 release in December 2010.)
Start backing up before it's too late
It's likely you're accumulating gigabytes to tens of gigabytes worth of images and video a month if you're shooting and recording on a regular basis. Even if you examine items to keep and delete the rest, your collection needs some sort of protection.
Accidents can happen. Don't let yourself get caught unawares and find yourself bereft of your digital life.
[Glenn Fleishman is a frequent contributor to Macworld, technical editor of TidBits, and author of numerous books, including Take Control of iPhone and iPod touch Networking & Security, iOS 4 Edition ( TidBits Publishing, 2010).]