Microsoft has come to play, releasing the full version of Windows Phone 7 Connector for Mac. The software, which allows you to sync your Windows Phone 7, er, phone with your Mac is finally out of beta and available as a free download—and, in an interesting twist, it's only available from the Mac App Store.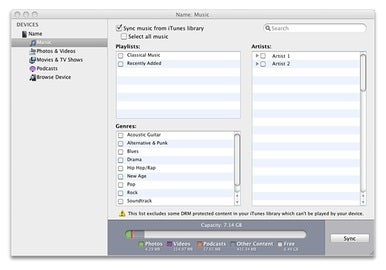 Windows Phone 7 Connector for Mac launched in beta form last fall, allowing users to sync their media from iTunes and iPhoto to either Microsoft's latest handset or to—heaven forfend—a Zune HD. Sync all your content or select just certain playlists, genres, artists, events, albums, and faces. A handy—and, to any iPod or iPhone user, awfully familiar-looking—bar at the bottom of the screen shows you how much space your various content takes up. Plus, you can skim and preview the media that's on your device right from the comfort of your Mac.
It's not just a one-way street, though: you can also pull your photos off your Windows Phone and add them to iPhoto. And, if there's a software update available for your phone, you can download and install it from your Mac.
Of course, there are some limitations. Protected iTunes content such as movies, TV shows, and pre-2009 songs can't be played back on a Windows Phone or Zune, so you're out of luck there.
The release of Windows Phone 7 Connector for Mac also marks Microsoft's first foray into the Mac App Store. While it's not an unexpected development, it may at least pave the way for future offerings from Redmond, including Microsoft's bread-and-butter Office apps.
Windows Phone 7 Connector for Mac is a free download and requires Mac OS X 10.6.6 or later.
Windows Phone 7 Connector