Editor's Note: This story is reprinted from GamePro. For more iPhone game coverage, visit Gamepro's iPhone section.
Chicken Coup is an arcade-style action game in which your goal is to sort different-colored chickens into their respective henhouses while simultaneously dealing with and eliminating dirty, thieving foxes. By dragging a finger around on the screen you'll gather chickens together in a train, and it's at this point that you'll have to toss them into the correct chicken coop to get a high score. Foxes will attempt to make off with your precious fowl, but they too can be dealt with by simply flinging them into the nearest barn. It's a fast-paced, reactionary game that's easy to zone out and play — great for whenever you only have a few minutes on hand to dedicate to gaming.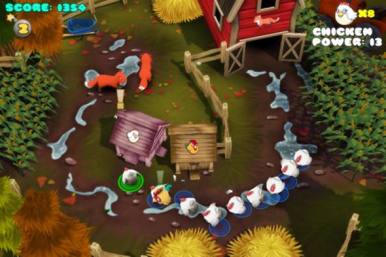 Chicken Coup is a lot like Geometry Wars in that it's demanding in a way that doesn't require you to actually think too much about the actions you're performing. You can really get in that "zoned out" state and think about other things while your finger is rapidly zipping around the screen, and I find that to be really appealing for certain situations. The cartoony graphics are also really gorgeous — no doubt a direct result of the game being built on the Unreal Engine 3. Trendy Entertainment has already released one other game on the App Store (Dungeon Defenders), and like Chicken Coup, it also runs on Epic's Unreal Engine 3.
I thought that the game was really difficult when I was playing on my iPod Touch, but once I started playing on my iPad I found it to be much easier to unlock the extra levels and set high scores. That's probably because you're allowed a little bit more finesse on the iPad's larger screen, but it sort of sucks that the biggest potential audience for this game (iPhone gamers) is at a competitive disadvantage.
That said, Chicken Coup features a few weird design decisions. For one, there's no way to pause the game. If you get interrupted while in the middle of a high-score chase, that's just too bad. On the technical side of things, I noticed a lot of slow-down whenever I unlocked a Game Center achievement while playing. I probably wouldn't mention something like that normally, but it was pretty game-breaking, and at one point the slow-down actually caused me to lose right before reaching the score necessary to unlock the last level. I'm playing on the newest iOS devices on the market as well, so I'd hate to see how this thing chugs on third or even second generation iPhones.
With only three levels, Chicken Coup isn't going to keep you entertained forever, but it's certainly good for a few 10-minute sessions.
Is it worth the price of admission? Chicken Coup is pitch-perfect at its $0.99 price point. It doesn't have enough raw content to satisfy my desire for a real, meaty game to play for extended sittings, but as a quick, pick-up-and-play option it's fine. Plus, it's really pretty.