Editor's Note: This story is reprinted from GamePro. For more iPhone game coverage, visit Gamepro's iPhone section.
The aptly titled Disoriented is a side-scrolling "platformer" (I'm hesitant to call it that because there is no jumping) in which you control gravity. To do this you'll have to spin your iPhone to change the world around your character, hurling him/her through ridiculous gauntlets of puzzles. Your reaction speed will have to be nearly perfect to successfully navigate through the numerous traps and labyrinthine levels if you hope to finish puzzles.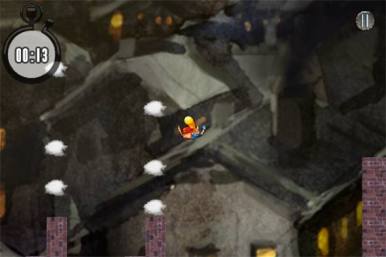 Developed by Vortex Games, in each level your goal is to collect a certain number of hidden items and make it to the level exit within the confines of a strict time limit. You'll have to zoom out and pan around each level before actually starting if you hope to have any sort of success, so half of the game is planning your route through each level, while the other half is rapidly spinning your iDevice to execute your plans.
It's likely that when playing this game you'll be reminded of And Yet It Moves, the cult hit indie game that allows you to switch gravity on the fly. The truth of the matter is that Disoriented is different in that each of its levels is massive and (generally) open. You're free to tackle them in a lot of different ways, so there's lots of room to improve upon fastest times.
This game also comes packed with a surprisingly fully-featured level editor. There isn't currently a way to share your created levels online, but the devs have made it so that you can send levels directly to them for consideration a future update.
On the whole, Disoriented can be somewhat… well, disorienting. Sometimes it's just too difficult to spin your iPhone at the speed necessary to navigate the game's more difficult traps, and failing a level over and over while flipping your iDevice around like a madman just isn't all that fun. It's not that the core mechanic is busted, it's just that the game can very often become frustrating.
That said, Disoriented's 60 levels won't take you long to play through, but if you're the kind of person that can get into level-creation stuff, that part of the game could potentially keep you occupied for a long time.
Is it worth the price of admission? At $0.99, Disoriented is an okay deal. It's got enough content to keep those who can get past its more frustrating levels occupied, and it's a unique concept that hasn't yet been done to death on the platform.