At a Glance
Expert's Rating
Pros
Great performance
Capacious single-drive model
Cons
No USB or FireWire ports
Remote access app only supports JPEG files
Our Verdict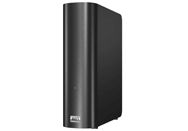 Western Digital's My Book Live is the latest iteration of the company's consumer line of network-attached storage devices. Unlike most professional-grade devices, the My Book Live isn't a port-laden behemoth with swappable drives and an imposing drive interface, but a simple way for the average person to share and stream media over an open network. Also, it's budget priced for that same consumer—$260 for 3TB of storage, $210 for 2TB of storage, and $170 for 1TB or storage.
While WD says that the My Book Live is capable of data transfer speeds up to 10MBps, our actual lab tests generated much more believable numbers: 42MBps writing a 2GB zip file, and 48MBps reading the same file. With an unzipped 2GB file, those speeds slow down to 30MBps and 28MBps respectively. Still, that's not too shabby compared to other NAS devices.
Setting up the My Book Live is a snap with the included installer, and in about five minutes, you'll have no problem dragging and dropping files and setting up user accounts. In particular, it's refreshing to see a total absence of the Windows-like file manage system that usually comes with a NAS drive interface. Then again, the My Book Live isn't that type of network storage device.
My Book Live works just fine with Mac OS X, and all the media stored in the device can be easily seen via iTunes, and it's Time Machine compatible to boot. Our only problem with setting up iOS access involved activating a free account with MioNet so that we could access the drive's data with an iPhone. While the My Book Live's interface lets you set up and access a MioNet account, we did run into a "bad request" error during set-up, and even registering through the MioNet Website directly didn't let the My Book Live see our account. We later simply reconnected the drive to another router, which gave us a firmware update. After that, both problems were alleviated, although we're not sure whether it was the router change or the firmware update that saved the day.
With the My Book Live's remote access tools, you can also view pictures stored on the drive via an iOS device with the free WD Photos app. While it's a nice addition, you can only view JPEG files, and no other media type is supported. That's particularly disappointing, considering that other NAS devices let you stream music via iTunes, as well as sharing videos across a network.
Also, the My Book Live has a bad habit of referring you to the user's manual for small tasks like streaming media. While it's not a problem to set these things up yourself, it would be a lot more useful if the drive interface had a built-in tutorial that would at least attempt to walk you through the process.
Benchmarks
| | Write 2GB file | Read 2GB file | Write 2GB zip file | Read 2GB zip file |
| --- | --- | --- | --- | --- |
| Western Digital My Book Live 2TB | 42MBps | 48MBps | 30MBps | 28MBps |
Possibly the major drawback to the My Book Live's design is its lack of USB or FireWire ports. Considering that some users will want to keep a Time Machine backup of their Mac system on the device, it's an odd omission. As a single drive NAS, it's not reliable for critical data recovery, and even though the data transfer speeds are acceptable, the inability to connect a USB or FireWire cable to the My Book Live makes it a little impractical for much more than sharing and storing photo albums, movies, and other types of multimedia you don't want sucking up space on your computer.
Macworld's buying advice
The My Book Live is an incredibly easy to use network-attached storage device. If you've got a fast Internet connection or Ethernet hook-up, the My Book Live is an inexpensive and attractive choice for anyone who doesn't want to deal with the office-grade NAS devices meant for professional IT users.