IK Multimedia has announced the availability of AmpliTube Fender for iPhone and AmpliTube Fender for iPad, its newest mobile apps for guitar-based composition. Already a great tool for guitarists to practice, learn songs, and record tracks right on the iPhone, iPod touch, or iPad, AmpliTube Fender now offers five of the legendary musical instrument company's amplifiers and six of its stomp boxes to improve your sound. The apps are available for $15 each from the iTunes Store. Free versions offering fewer amps and stomp boxes are also available for the iPhone and iPad.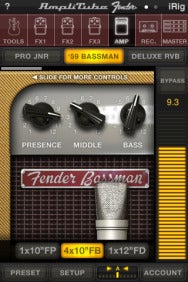 The new iOS versions of AmpliTube Fender are based on the same amp and effects models used in IK Multimedia's $230 desktop software suite of the same name.
Using IK Multimedia's iRig guitar interface, AmpliTube Fender users can now plug into their iPhone or iPad and crank up classic amps like the '65 Deluxe Reverb, the '65 Twin Reverb, the '59 Bassman LTD, as well as the Fender Super-Sonic and Fender Pro Junior.
Stomp box models include Fender Tape Echo, Compressor, the Fender Blender, Fender Phaser, Overdrive, and Noise Filter. In addition to the amps and stompboxes, AmpliTube Fender offers an assortment of speaker cabinets and two different microphones to further customize the sound.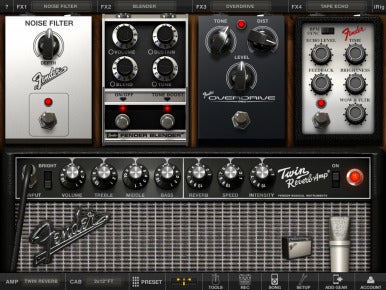 AmpliTube Fender retains all of the useful features found in standard AmpliTube 2 apps, such as a tuner, metronome, the ability to import songs to play along, and a built-in one-track recorder (upgradable to a four-track recorder through in-app purchase).
Those who already own AmpliTube for iPhone or iPad can add these new Fender amp and stomp box models through in-app purchases.