OverDrive Media Console—the iPhone app that lets users check out and read e-books from their local libraries—has been upgraded to a universal app optimized for iPad use.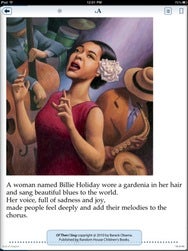 The version 2.2 update from OverDrive arrived on Tuesday in the App Store. Previous, iPhone-centric versions of the app were available on the iPad, but only in the device's iPhone-compatibility mode, which made using it on the tablet a less-than-desirable experience. The upgraded app looks great on the iPad; it also now lets users alternate between portrait and landscape modes while reading.
OverDrive says more than 13,000 libraries across the United States offer e-book checkouts through the app, but your mileage may vary. (My local library, the Free Library of Philadelphia, offers just 111 e-book titles in its history section, and—much like a brick-and-mortar library—if somebody else has already checked out the one copy of A Fiery Peace in a Cold War, you have to wait until they're done before you can download it, a counterintuitive condition in the otherwise-infinite online universe.) The upgraded e-reader doesn't let users make highlights or notes—but on the bright side, there aren't any late fees when the book is due. You simply are forced to stop reading.
OverDrive Media Console is free—though you'll need both a library card and a free Adobe Digital Editions account to make it work—and is compatible with any device running iOS 4.0 or later.