Thursday marked the wrap-up of this year's Mobile World Congress event in Barcelona, and also marked the debut of the Macworld Mobile event at the world's pre-eminent trade show covering the mobile industry.
The all-day Macworld Mobile sessions, aimed at iOS developers, featured speakers Mikael Hed, CEO of Rovio ( Angry Birds); developers Michael Simmons and Mike Lee; Macworld senior contributor Andy Ihnatko; and developer and educator Fraser Speirs. (I also moderated a panel that featured Simmons, Lee, and Speirs to wrap up the day.)
Hed, who also spoke earlier this week at Mobile World Congress, told the "Angry Birds" story and discussed the company's strategy of pricing its apps low (or giving them away) in order to generate massive volume.
Simmons and Lee shared their advice on being developers. Lee's excellent presentation exhorts developers to create high-quality products rather than race to make a quick buck, rightly pointing out that the market for low-quality apps is already saturated. Simmons explained how his previous company, Cultured Code, rolled out a version of its Things app for iPhone, iPad, and Mac, and sold the product at a premium price on each platform.
Ihnatko's presentation, which began with an image of Steve Jobs in a Mao-style painting next to the word OBEY, mixed criticism of Apple with an understanding of what the company does in order to make great products that people love to use. Ihnatko was clearly bothered by Apple's latest App Store declarations, and suggested that while Apple's recent positive growth has led to the creation of a bit of Apple empire, the final step in any empire is its fall. (That description makes Ihnatko's talk sound more negative than it was—he was trying to elaborate on both the strengths and weaknesses of Apple's platform, from a developer's perspective.)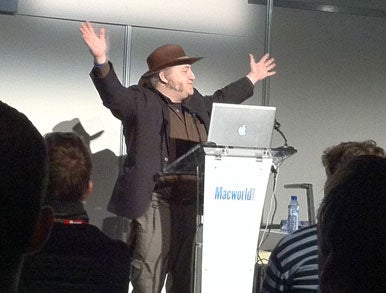 Speirs told the story of the school where he works, the Cedars School of Excellence in Scotland, which this year issued iPads to every single student. Each teacher has chosen to integrate the iPad in lessons in their own ways, and Speirs offered several examples, including an art teacher using the Brushes app to show students her techniques by playing back the series of steps she used in creating a painting. Speirs even made the provocative point that the ubiquity of the Internet and mobile devices will change what sorts of things we teach children, since memorization of facts—quick, what year did Napoleon go into exile?—has already been rendered largely unnecessary. (It's 1815, by the way.)
Speirs also mentioned eight apps that are particularly popular among teachers at his school: iThoughtsHD, CourseNotes, Moodboard Pro, Keynote, Math Bingo, ABC PocketPhonics, Google Earth, and iBooks.
Finally, in the panel discussion I moderated, the developers talked more about creating premium-quality apps with prices to match. In response to a question from an aspiring developer in the audience, Lee pointed out that being a programmer can be hard, frustrating work, and it's not for everyone. Speirs recommended would-be developers study Apple's own free documentation. They all agreed that the best course for all iOS developers is to stick to Apple's development tools and documented frameworks and not pay attention to any rumors about future Apple products.