Consumer-grade video editing software like iMovie has made it possible for amateurs to produce quality films, but 3D animation remains largely in the domain of highly experienced professionals. Smith Micro aims to make 3D animation easy and accessible for all with its new 3D design and animation software, Poser Debut.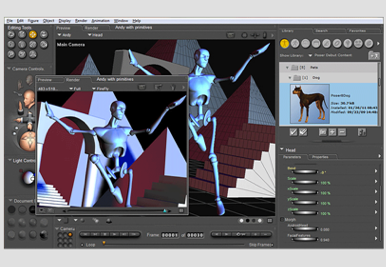 Poser Debut is a stripped-down of Smith Micro's professional Poser Pro and Poser 3D figure design and animation software that's targeted at consumers. It features easy-to-use 3D-scene-creation tools that lets users pose and manipulate 3D figures ranging from photorealistic human figures to animals, monsters and aliens.
The $50 Poser Debut comes with 2GB of content to help get you started, including more than 70 ready-to-pose characters with a wide variety of clothing, props, cameras, and lights that make it easy to quickly create entire scenes on a virtual stage. It also includes a step-by-step project guide tutorial to give first timers a quick start.
The software's graphical interface is designed to be easy to use for beginning 3D artists, with simple click-and-drag posing and drag-and-drop item arrangement. The software also includes Smith Micro's Firefly rendering engine, which turns your 3D scene into a full color, detailed cartoon style image or animation. It's also optimized for use with multiple CPUs and cores for extra-fast rendering and more accurate displaying of scenes.
Poser Debut is available now for $50 and requires OS X 10.5 or later, an OpenGL-enabled graphics card or chipset, and a at least a G4 processor with 512MB of RAM.