Before you head off to the Magic Kingdom, Disneyland iGuide — Walkee is a great place to turn to for planning your amusement park adventure. The $4 app from MediaLab can help you decide what you want to see and ride before you even set foot in the park.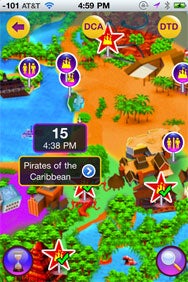 Walkee's map of Disneyland shows an icon for each attraction; tap on that icon to get the attraction's name. Tap the more-info arrow, and you see a brief description of the attraction and its history; for rides, this screen also inclues a Tummy Tester advisory (for those with weak stomachs), any height requirements, the length of the ride, and a section on typical wait times for the ride (based on historical data). There's also a Schedule feature that shows hours, events, and closures for the days you'll be at the park.
Using this information, you can mark as favorites each of those things you want to see or ride. When I took my family to Disneyland, I found Walkee useful for helping to figure out which rides would be appropriate for my toddler.
What's especially useful is that Walkee lets you customize its map to display only the info you want to see. For instance, my wife and I opted to show favorites, character meets, and restrooms; once we got to the park, we could easily see which attractions we wanted to visit without being distracted by everything else on the map. (Though I wish the app provided an option to remove items from the map once you'd marked them as completed.) We also knew where to go for the kids to take photos with Disney characters, and where to quickly find the nearest restroom—which, as any parent with small children can tell you, was a welcome option, as kids at Disneyland have a tendency to claim they don't need to use the facilities until about 30 seconds before it's too late.
Walkee's interface is a little cluttered, and its map—while pretty—is cartoonish and not great for actually navigating the park. (For that, I turned to Disneyland Maps.) And while Walkee can give you almost-live updates of ride wait times, the interface for this feature isn't very helpful: You can see all wait times in a single list, sorted alphabetically, or you can tap a ride on the main map to view just that ride's wait time. Disneyland Maps shows the wait times for all rides in a single map view, making it easy to both compare wait times and view locations.
That said, Disneyland iGuide — Walkee is a solid planning tool that helps make any visit to the Happiest Place on Earth that much happier.
[Dan Frakes is a senior editor for Macworld.]