This week's newcomers in iPhone 4 case-land include some snazzy designs made by Grammy-award-winning artists, as well as the usual slew of TPE, polycarbonate, and rubber cases that we just can't get enough of. Oh, and there are a couple more existing cases that have been confirmed to work with the Verizon iPhone 4. Read on to get the full scoop!
Essential TPE
Iro means "color" in Japanese, and as such, Essential TPE's Iro case ($25) comes in a variety of glossy, striking colors. The polycarbonate hardshell case features a curved, ergonomic design meant to increase comfort while holding the phone, and it sports a UV coating that reduces glare from the iPhone's flash when taking photos.
Griffin

If you're an indie music lover, what better way to show your support than with an artist-themed iPhone case? Griffin has partnered with the Grammy foundation to deliver four new iPhone 4 skins ($10 each) that feature original artwork by the bands OK GO, MGMT, Phoenix, and Ben Folds. Each skin is made of extra-thick vinyl for scratch and impact protection, and proceeds from the sale of these covers help support the Grammy foundation's ongoing Grammy In The Schools music education programs for high school students.
iSkin
iSkin's Revo4 SE ($45) is a hypoallergenic silicone case that features a screen visor to protects your iPhone's screen while allowing you to still answer and end calls. When more-involved iPhone use is needed, you can simply remove the visor and snap it onto the back of your iPhone. The case's silicone body features embedded Microban antimicrobial protection that works to eliminate stains and odor-causing bacteria and fungus on the case.
Verizon iPhone case updates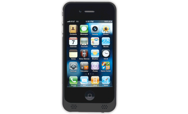 Tekkeon: Tekkeon's myPower for iPhone 4 ($80) works with the new Verizon iPhone without any changes. The myPower is a battery case featuring Tekkeon's eSwap technology, which allows you to swap out the case's battery for a fresh one—with enough extra batteries ($25 each), you could use your iPhone without a charger indefinitely. The case's 1200 mAh battery pack is extra-slim, and helps preserve your iPhone's battery by bypassing the battery and directly powering the phone, rather than merely charging it. The case itself is made of hard plastic with raised edges to protect your phone from face-down drops.
XtremeMac: XtremeMac has announced that its LeatherSleeve case ($25) also fits the Verizon iPhone 4 without the need for modifications. The Leather Sleeve is made of premium leather with a microsuede-lined interior to keep your iPhone safe and snug. The case is designed for easy insertion and removal of your iPhone and comes with Tuffshield screen and back protectors.