This week's newcomers in iPhone 4 case-land include some snazzy designs made by Grammy-award-winning artists, as well as the usual slew of TPE, polycarbonate, and rubber cases that we just can't get enough of. Oh, and there are a couple more existing cases that have been confirmed to work with the Verizon iPhone 4. Read on to get the full scoop!
Essential TPE
Griffin

If you're an indie music lover, what better way to show your support than with an artist-themed iPhone case? Griffin has partnered with the Grammy foundation to deliver four new iPhone 4 skins ($10 each) that feature original artwork by the bands OK GO, MGMT, Phoenix, and Ben Folds. Each skin is made of extra-thick vinyl for scratch and impact protection, and proceeds from the sale of these covers help support the Grammy foundation's ongoing Grammy In The Schools music education programs for high school students.
iSkin
Verizon iPhone case updates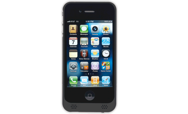 Tekkeon: Tekkeon's myPower for iPhone 4 ($80) works with the new Verizon iPhone without any changes. The myPower is a battery case featuring Tekkeon's eSwap technology, which allows you to swap out the case's battery for a fresh one—with enough extra batteries ($25 each), you could use your iPhone without a charger indefinitely. The case's 1200 mAh battery pack is extra-slim, and helps preserve your iPhone's battery by bypassing the battery and directly powering the phone, rather than merely charging it. The case itself is made of hard plastic with raised edges to protect your phone from face-down drops.
Note: When you purchase something after clicking links in our articles, we may earn a small commission. Read our affiliate link policy for more details.