For finding your way from Adventureland to Tomorrowland—and everywhere in between—one of your better options is Disneyland Maps. This $2 app from VersaEdge Software provides a detailed, accurate map of Disney's Anaheim, Calif., amusement park. (You can also opt for a free version of Disneyland Maps if you don't mind ads.)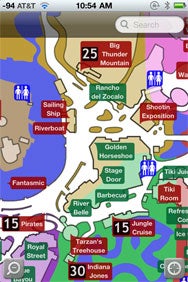 Zoom in on Disneyland Maps, and you see every attraction (in red), restaurant (in green), and restroom. Unlike the similar Disneyland iGuide – Walkee, Disneyland Maps displays the name of each attraction and restaurant all the time. Tapping an item displays a photo of it, and a More Info button gives you a quick description (though Walkee provides more detailed info).
The best feature in Disneyland Maps is that its excellent map also displays nearly-live wait times for every applicable ride without making you tap to a different screen. The information isn't authorized by Disney, but it proved to be accurate during my last visit to the park—listed wait times were an acceptable five to 10 minutes off from reality. Just glancing at my iPhone, I could see which nearby rides had the shortest waits, avoiding more popular rides until their wait times dropped. (Disneyland Maps also lets you submit your actual wait time to improve the app's accuracy.)
Disneyland Maps is GPS-enabled, so you'll never have to wonder where you are in the park or how to get to a particular attraction. It may lack the textual detail about each attraction found in rival apps, but the clean look of Disneyland Maps and its valuable wait-time feature make it a worthwhile companion at the Magic Kingdom.
[Dan Frakes is a senior editor at Macworld.]