A Disneyland visitor can't live on rides alone. Eventually, you're going to want to grab a bite to eat, and when you do, VersaEdge Software's Disneyland Dining won't leave you hungry for information. The free ad-supported app offers a list of all restaurants in both Disneyland and the California Adventure parks, sorted either alphabetically or—more useful—by distance from your current location.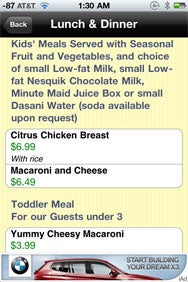 Tap any restaurant in the app and you get a quick description, a photo, and a list of the restaurant's vitals—the price range, whether it's quick or sit-down, whether reservations are needed, and the type of food (American, Cajun-Creole, Italian, and so on). Best of all, you can view each restaurant's complete menu, including prices.
For a family with small children, this kind of data is invaluable. No matter where you are in Disneyland, you can stop and browse the menus of every nearby restaurant, making it easy to find some place to eat while avoiding the restaurant hopping that can bog down any trip to the Magic Kingdom.
Disneyland Dining also lets you mark particular restaurants as favorites and then restrict the list to just those places. If a restaurant requires reservations, or if you plan to meet up with others at a particular time, you can enter that information (including reservation number) and then view your entire dining schedule on a single screen. You can also call Disney's dining-reservation line directly from the app.
It would be nice if Disneyland Dining also included information on the many restaurants in the Downtown Disney complex that surrounds Disney's Southern California parks. But the information it does have makes Disneyland Dining a great addition to your iPhone on your next visit to the Magic Kingdom.
[Dan Frakes is a senior editor for Macworld.]