Last week, I briefly mentioned that I could no longer get my Twitter feed to post to my Facebook wall. Many others reported the same symptom. What happened next was sufficiently convoluted and frustrating that I decided the story was worth a "full" column.
I was using Twitter's official Facebook app. Its webpage claimed that my two accounts were still connected. The option to "allow Twitter to post updates to Facebook Profile" was enabled. But nothing was happening. I disconnected and reconnected the two accounts. No change. I searched online for advice. Nada.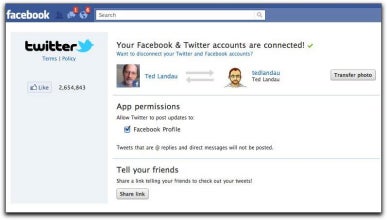 A few days later, I rechecked Twitter's support site. This time I noticed what appeared to be a new entry. It covered my precise symptom: "My Tweets suddenly stopped showing on Facebook! They're not on my Wall!" Bingo!
I dutifully followed all eight steps listed on the Twitter page. Doing so required navigating to some fairly obscure settings options for both Twitter and Facebook. It didn't help that Step 3's instructions—to "visit your Applications Settings" in Facebook—offered no advice on how to get there. It turned out to be considerably more involved than I expected. From the Account menu on the Facebook site, select Privacy Settings. From the page that appears, locate the Apps and Websites item on the lower left side and select "Edit your settings." Next, click the Edit Settings button for "Apps you use." From here, select Edit Settings for the Twitter app. At last, you can click "Remove app" (which is Step 4). Whew! This is not what I would call an efficiently-designed user interface.
Making matters worse, as I worked through the eight-step program, Twitter occasionally balked, dumping me to the "fail whale" screen. When I repeated the failed action, it eventually worked. But this was not inspiring any confidence. Skipping over several further hassles, here's the punchline: It worked! When I was done, Twitter was again posting to my Facebook wall.
Until the next day. When the Twitter-to-Facebook connection stopped working. Again.
I tried to contact Twitter support directly, to inform them of this new failure and possibly get further advice. Unfortunately, figuring out how to send an email to Twitter support (assuming it's even possible) proved to be a task beyond my now limited patience. I gave up.
My next tack was to switch to a different Twitter-to-Facebook app. After assessing an assortment of third-party programs, I settled on SupaSync. No luck. Whatever was causing the work stoppage, it was not limited to a specific Facebook app. Rather, it seemed to be a general failure of Twitter and/or Facebook.
At this point, I abandoned the search for a solution, deciding I would rather go without seeing my Twitter feed on Facebook than waste any more time on the matter.
That would have been the end of the story. Except… the next day… without me doing anything at all… my Twitter posts began to appear on my Facebook wall. It's all been working perfectly ever since. Go figure.
That's the end of the story. For now. Given that I have no idea why the Twitter postings stopped or why they started again, I'm not at all convinced that we've seen the last of this bug.
[A big "thank you" to Lex Friedman, Chuck Joiner, Neal Pann, and Tom Schmidt. We were all victims of this bug and worked together to try to solve it.]