We appreciate you being a Macworld Insider, and we're always looking for ways add value to your subscription. So as a thank you, Macworld would like to offer you a free download of our Total Snow Leopard Superguide. This 104-page PDF normally costs $12.95, but it's yours for free. Here's what it's all about:
Nobody spends more time with Apple's computers and software than the writers and editors at Macworld, the world's foremost Mac authority.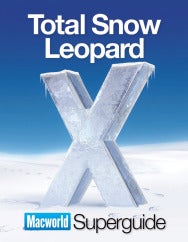 Now Macworld's team of experts take you inside Apple's latest update to the popular Mac OS X operating system: Snow Leopard, Mac OS X 10.6. Snow Leopard is an OS X update unlike any in recent memory—one that boosts speeds, reclaims disk space, tweaks dozens of features, and lays the groundwork for a new generation of computers featuring 64-bit multicore microprocessors, ultrapowerful graphics processors, and massive amounts of memory.
In this book we'll walk you through Snow Leopard's new features and help you master OS X basics, find hidden tricks, and work around glitches—all to make sure you have the best Snow Leopard experience possible.
Inside these pages you'll find all the information you need to install Snow Leopard smoothly and get started with its most important new features. Use this book to master the Web with Safari 4, get e-mail with Exchange, and increase productivity with text substitutions and the Services menu.
Our experts don't just focus on what's new in Snow Leopard. This book is filled with practical information on using OS X, including step-by-step advice on recovering from crashes, freezes, and other Mac ailments, and tips on how to best back up your system with Time Machine to ensure that you can recover quickly from more serious problems.
Let Macworld's experts show you how to get the most out of Snow Leopard and your Mac.
So download your free Superguide now. And don't forget to visit the Macworld Web store and take a look at our other Superguides—you can use the code included in your Insider sign-up e-mail for 10 percent off our other Superguide titles. And when OS X Lion comes out this summer, you can be sure Macworld be ready with a Total Lion Superguide.