Editor's Note: The following review is adapted from Five Star Apps: The Best iPhone and iPad Apps for Work and Play by Glenn Fleishman. (2010, Pearson Education and Peachpit Press).
Most of us can't claim to think perfectly in sequence. We have jumbles of ideas that we're trying to sort out. Mind mapping is one technique to take related ideas and link them together as "leaves of a tree." You start with a top node that represents a main concept, and "leaf out" with limbs of a tree extending out further and further as you develop ideas. For the right person, mind mapping is a great focusing tool.
MindNode from Markus Müller brings mind mapping to all iOS devices, letting you create maps with tap-and-type simplicity. Tap a main node and then tap a plus sign (+) to add a new subsidiary branch. Tap to select and then drag any node to move it (and its subsidiaries) to another part of the tree. The developer has a nice feel for touch gestures.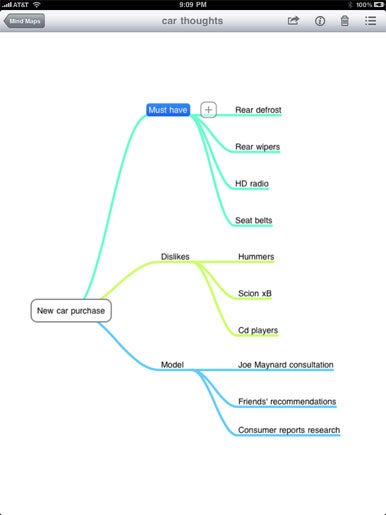 The graphical approach is good for sketching out ideas, but MindNode also lets you view the map as a text outline by tapping the outline button at upper right. As you work through creating a map, you can pinch and expand to see more or less at once. Tap a node and tap the trash can icon at top to delete its branch.
The app works with its desktop complement, MindNode for Mac ( regular and pro versions). You can transfer files to and from the desktop copy. A Wi-Fi transfer mode (a bit hidden under sync) shares over a local network using WebDAV. The app also allows mailing the node or uploading to Dropbox in several formats, including as text, an image, or an interchangeable file format used by many programs for outlines. You can even use video output on iOS devices that support it to display maps on an external monitor.
[Glenn Fleishman is a senior contributor to Macworld.]