Although productivity apps and to-do list managers seem to be the new trend, EgretList from MindsMomentum looks to put its own spin on the typical world of to-dos by basing its backbone on the Evernote platform.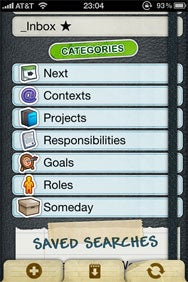 One of the first things that catches the user's attention in EgretList is the $3 app's over-the-top design. It's very pretty, and, most of the time, functional. However, some of the design choices can actually hinder the speed at which a user can understand EgretList or its many features.
But EgretList has some attractive features, most notably its relationship to the Evernote information storage service. It's a rarity to have an iPhone app that can sync to-do items with a note-taking service, but because it does sync with Evernote, EgretList can be easily updated from any Internet-connected device, not just an iOS device. New to-do items are created as completely new notes that can have text, photos, and videos added to them, which you can then access either through an Evernote client or on EgretList.
That said, there aren't too many other unique features to EgretList, and the distinction between to-do items and lists is hard to make.
If you're an avid Evernote user, or simply need to access your to-do list from a variety of platforms, EgretList is a fantastic solution. Yet, the app isn't as feature-rich as some users would probably like and the design choices may annoy others. Nevertheless, EgretList is a worthwhile purchase for existing Evernote users, or for anybody that needs to store and access various media with each to-do.
[ John Fuller is a freelance designer and writer from Texas.]