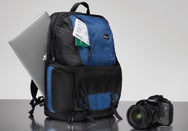 On paper, the MacBook Air appears to be the answer to many roving photographers' dreams. It's small enough to travel in a camera bag yet fast enough to run major photography software.
The MacBook Air's maximum thickness is a mere 0.68 inch. You can comfortably hold while open it in one hand, and the wedge-shaped design makes the laptop easy to slip into the pocket of a camera backpack. Despite the MacBook Air's portability, specs for it indicate that it's no lightweight on performance. With the MacBook Air you can run iPhoto '11, Photoshop CS5, Lightroom 3, or Aperture 3 anywhere.
But how does it hold up in the field? Over the course of six weeks I traveled by plane, cab, bus, and on foot with a 13-inch 2.13GHz MacBook Air in my camera backpack. I used it to edit photos, write articles, upload video, and manage my sites. The Air endured the same rigors of the road as my DSLR and backpack. And when the dust settled, I liked the Air more than ever.
Key features for photographers
Photography equipment is bulky enough to begin with. The allure of the Air is that it lets you pack a computer and still travel light—both sizes can fit in your lap if you're flying economy class. It's small enough that you can transport it in a camera bag, keeping your carry-on luggage to a minimum. Inside that slim package is a robust battery that stays charged for a long time, letting you work on long flights; flash memory, which eliminates the worry of hard-drive failure; and enough power to run all major Mac photo apps, including Apple's Aperture and Adobe Lightroom.
The field tests I did were on a build-to-order model: a 13-inch 2.13GHz MacBook Air with 4GB of RAM. The price for this configuration is currently $1799. The faster, build-to-order model does increase the price of the Air, but the system performs better in benchmark tests. I opted for the upgrades because of Aperture, which likes extra horsepower; however, they are not necessary to run any of these photo programs.
If space is at a premium, the 11-inch Air also works well for photographers on the road, showing minimal speed differences. I have reports from shooters running Aperture on the $1199 11-inch model who were very satisfied.
There are a few key areas where the two models differ that photographers should take into consideration: The screen resolution for the 11-inch Air is smaller—only 1366 by 768. With the 13-inch Air's larger 1440 by 900 screen, you have extra space for working on photos. And only the 13-inch model includes an SD Card slot, so if your camera uses SD Cards, you won't need to pack a card reader or USB cable.
Looking at the speed specs
Your laptop is your office on the road, so it needs to handle all the types of work you do, including e-mail, Web browsing, and writing. The Air manages those tasks handily while also meeting the special software demands of a photographer.
The 2.13GHz MacBook Air isn't quite as fast as the 15-inch 2.4GHz MacBook Pro, according to the Speedmark 6.5 scores (119 versus 132, respectively). But in my real-world tests as a photographer, the Air performed quite well.
For example, I tested the MacBook Air against my older 17-inch, 2.5GHz MacBook Pro by importing raw files from a Canon EOS 60D into Aperture 3. The MacBook Air averaged 53 seconds for 30 raw files versus 1 minute and 50 seconds for importing the same files off the same memory card from the older MacBook Pro.
I had good results while image editing in Aperture. Even after I enabled five or six adjustments, edits went smoothly, with little or no delay. Despite its smaller size and lighter weight, the MacBook Air can hold its own against larger, more powerful laptops.
MacBook Air versus the iPad
I'm a big fan of the iPad, and it was my sole camera bag companion until I started packing the MacBook Air. Each device has its benefits:
iPad Advantages
Lighter and more compact (weighs 1.6 pounds vs 2.9 pounds for MacBook Air)
Built-in 3G connectivity in addition to WiFi (3G model only)
Large number of interesting and useful specialty photo apps
Less expensive for top of the line models ($829 for 64GB 3G model vs $1,799 for 2.13GHZ, 4GB Ram MacBook Air)
MacBook Air Advantages
More storage (up to 256 GB)
Bigger screen with 1440 by 900 resolution on the 13-inch model
More sophisticated software, especially for photo editing and managing
Can process raw files
Easier to connect an external hard drive
Faster processor, more powerful graphics card, more Ram capacity
Built-in SD card slot (versus $29 accessory Camera Connection Kit for iPad)
Video editing using iMovie or favorite app
In real world terms, the iPad works great on vacation when I don't need to deliver final product from the road. I can view photos and movies, answer email, browse the web and play with the specialty photo apps. But on assignment, I need the added power and storage of the MacBook Air. It costs more, but it's a tool that can be used for professional assignments as well as leisure.
For more details on how the iPad works in the field, check out my step-by-step workflows for photographers using an iPad.
The final word
Photographers who want to travel light and who have the budget for a premium laptop should consider the MacBook Air. The faster Built to Order model does increase the price, but it also performs better in benchmark tests. If you want an even a more compact package and are willing to give up a bit of resolution and the SD card slot, the 11-inch model seems to be pleasing many photographers on the go.
Tomorrow, I'll share my recommended workflows for photographers using the MacBook Air in the field.
[Senior Contributor Derrick Story teaches digital photography on Lynda.com and runs a virtual camera club at The Digital Story.]