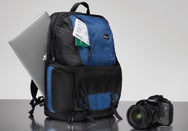 First we looked at how the MacBook Air performs as a laptop for photographers on the go. Now I'd like to share some of my recommended workflows for shooters who add a MacBook Air to their camera bag.
Even with a MacBook Air, most photographers will continue to use their home-base computer to serve as a primary workstation—something with a larger screen for viewing and editing, and more storage and back-up drives. The MacBook Air works best as a satellite laptop—one that occasionally offloads cargo, namely photographs and video, to the mothership.
When you use the MacBook Air as a secondary computer, you'll need a workflow that allows you to integrate your photos from the road into a master library at home. Two applications in particular, Apple Aperture and Adobe Lightroom, are well-suited for this task.
Basic Aperture workflow: Create a new Aperture Library on the MacBook Air (File -> Switch To Library -> Other/New). While you're on the road, import all of your masters into the new library, edit the images, add metadata, build slideshows, and do whatever else you need to do. Once you return home, copy the travel library container to an external hard drive. Connect the hard drive to your home computer, open Aperture, and merge the travel library with your master library (File -> Import -> Library/Project). All of your work, and your master files, will be neatly organized in the master library.
Basic Lightroom workflow: Create a new catalog in Lightroom on the MacBook Air (File -> New Catalog). Give it a unique name to help distinguish it from other catalogs on your drive. When you import photos into the new Lightroom catalog, use the same file-structure system for the masters that you do on your home computer; you set this up in the Destination panel in the Import dialog box. A typical approach might be to organize by date in your Pictures folder.
When you return from shooting, copy the Lightroom catalog and the masters to an external hard drive. Open Lightroom on your home computer and choose File -> Import From Catalog. Navigate to and then select the catalog you want to bring into your master Lightroom library. Lightoom will then ask you what you want to do with the master images. Select Copy New Photos To A New Location And Import from the File Handling pop-up menu. Put those images in the same location as your other Lightroom masters. Click the Import button. Lightroom will place the masters in the location you specified and merge your MacBook Air catalog with the catalog on your home computer. All of your metadata and work will be retained.
Backing up: As part of the merging process with either Aperture or Lightroom, you will have copied all of your travel work onto an external hard drive. This is an excellent time to move that content on your home backup drive alongside all of your existing photo backups. Then, as a final step, you may want to remove the travel libraries from your MacBook Air so that storage space is available once again.
While on the road, you have a few simple backup options that don't require toting a lot of extra equipment. You can carry a small USB drive. Or, bring enough camera memory cards so you don't have to erase them after you upload the photos to the MacBook Air. If you know that you'll have bandwidth on the entire trip, you may consider online backup to MobileMe or other cloud services. These are some other online backup strategies for photographers.
Color Management: The MacBook Air uses a high-resolution LED-backlit glossy widescreen display. The easiest color management is to stick with the default Color LCD profile that's listed in the Displays Preference pane. I've had very good luck printing with this profile and getting solid results.
If you feel the need to calibrate the screen yourself, you'll probably want to use a spectrophotometer such as the EyeOne Pro. Older colorimeters often don't work as well on a LED-backlit screen, and you could actually degrade your calibration.
[Senior Contributor Derrick Story teaches digital photography on Lynda.com and runs a virtual camera club at The Digital Story.]