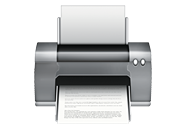 Multifunction printers (MFPs), sometimes called All-in-Ones, are a boon to many small offices: they combine a number of different devices like printers, scanners, fax machines, and photocopiers into a single package that is both compact and cost-effective.
The flip side of all this convenience, however, is that choosing an MFP means finding a single unit that offers all the features you need in every area that it covers, with the added wrinkle that a decision in one area may well cascade into all sorts of unintended consequences affecting the other areas.
The first step in choosing the right MFP consists of figuring out which features you actually need. While there are many models of multifunction printers on the market, generally, they feature three primary functions: printing, scanning, and faxing.
Printing
As with choosing a traditional printer, the main tradeoff in buying an MFP is between quality, initial investment, and ongoing cost. But there's the kink with an MFP: you must consider the effect that all the unit's functions will have on your ongoing costs.
If you regularly need a lot of photocopies and receive numerous faxes, you will have to factor them into your consumables usage when determining whether to choose a laser MFP, which usually means a higher initial investment, or an inkjet device, which is less expensive upfront but costs more on a per-page basis.
In practice, unless you are considering the purchase of a high-end MFP, the price difference between the two technologies is relatively small, and laser should be your choice. If you want more color prints, the balance shifts in favor of inkjet printers, unless you print in high volume.
Scanning
Scanning is a critical part of an MFP, because, in addition to the obvious role of helping you import images into your Mac, it assists both the faxing and photocopying functions.
These days, most MFPs come with reasonably good scanners capable of at least 600 dpi and 24-bit resolution output. This is plenty for faxes (which generally require no more than 150 dpi in black and white), and good enough for high-quality photocopies, document archiving, and non-professional photos.
Do not be swayed by manufacturer claims of interpolated resolutions with thousands of dots per inch—these are computed using software algorithms that mathematically approximate a higher resolution than your scanner is capable of and result in mostly poor-quality output. Rather, you should look for the scanner's optical resolution, which indicates how much detail it can actually see and reproduce. Generally speaking, the higher this value is, the better quality the resulting scans will be.
Then again, if all you'll ever do is scan documents and forms, the resolution of the scanner will be secondary to another metric: speed. Here, there are two factors at play: the first one is how quickly the scanner can read a page; clearly, shorter times mean less waiting on your part. Just as important, however, is the method by which paper is fed into the machine: a flat-bed scanner requires you to manually remove each sheet of paper and position a new one in between scans. If you expect to scan a lot of documents, you will probably be better off purchasing an MFP that comes with a sheet feeder in which you'll be able to place a stack of paper and have each page scanned, faxed, or photocopied while you attend to other business.
Faxing
Of the three basic MFP functions, faxing is swiftly becoming the least critical, given the prevalence of e-mail. Still, if faxes are an important part of your job, you will want to make sure that the MFP you choose can work both as a standalone system and in conjunction with your computer. This means that you must be able to not only fax documents directly from the machine, but also using your Mac's faxing built-in capabilities. While the latter is not strictly necessarily—you could just print and fax your document—not having to print will save both money and time, with the added bonus of being good for the environment.
Software
It pays to do a bit of research before diving into a purchase to make sure that the product you choose can play nicely with Mac OS X. Just a label on the box may not cut it.
In particular, if you opt for an MFP that connects to your computer via USB and that will be used by people in a work group, you want to ensure that its drivers allow you to share fax and scanning capabilities over your local network. Nothing will drive the person whose Mac is connected to the MFP insane like the constant stream of coworkers asking for scans or faxes.
With a network-capable driver, both scanning and faxing will be available directly to each user on a local network: all you need to do is share the printer through the Print & Fax panel in System Preferences. The other users will then be able to launch Image Capture on their own Macs and access the shared scanner or fax system directly, without having to take over anyone else's computer.
When something fails
The final element to consider when buying an MFP is failure. Sooner or later, something will go awry and your device will stop performing one of its functions well, or at all. Unless you suffer a major electrical malfunction, however, it's entirely possible that the rest of the MFP's functionality will remain completely intact, and this poses a problem: do you replace the entire machine, buy a specialized device and only replace what's broken, or do without one of the MFP's functions?
Each of these choices has its drawbacks: a specialized device would likely be expensive and occupy additional space in your office, while giving up a functionality that you currently have will be bothersome and hamper your productivity (unless you didn't need it in the first place).
If you've done your homework, however, replacement is almost always the best option. When shopping for an MFP, it pays to find a model that costs less than if you had to buy each of its functions separately at the level of quality and reliability you need. That way, buying a new one becomes a much easier decision.
These days, buying a replacement unit is not that difficult: for example, in my office a Brother DCP 7020 provides faxing, scanning, and photocopying and cost me less than $100. While this device has worked flawlessly for many years, I wouldn't hesitate to replace it if any of its components stopped working, because it's unlikely that I will be able to find a lower-cost single-function peripheral.
Naturally, the Brother is not the only device in my small office; there's also a Xerox high-yield color laser that is used for most of our print jobs. In contrast, the Xerox printer is not a product that I would ever want to perform more than one function.
The bottom line
With all the potential drawbacks, pitfalls, and decisions, you might question whether MFPs are really worth it. An MFP is definitely a compromise—it's unlikely that you'll find a reasonably priced MFP that gives you top-of-the-line performance in every specialty. Consider an MFP as a commodity that's good at performing a number of different tasks, but be prepared to let go if individual components start to fail.
Hopefully these hints will help you find the MFP that best matches your needs—and one that will give you years of faithful service with a minimum of headaches.
[Frequent Macworld contributor Marco Tabini is based in Toronto and can be found on Twitter as @mtabini .]
Photosmart Plus e-All-in-One Printer series—B210