Many writers procrastinate. That's why several niche word processors—and even the latest edition of Microsoft Office—offer writing modes that aim to eliminate distraction by hiding everything on your screen with the exception of your text.
The iPad would seem to offer writers an advantage, in that theoretically any writing app should take up the whole screen, hiding your e-mail and Safari and other rabbit holes. But iA Writer for iPad takes distraction-free writing to another level.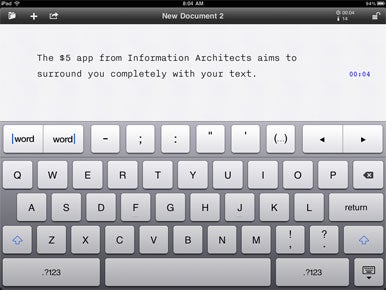 The $1 app from Information Architects aims to surround you completely with your text. There's a menu bar at the top, and a keyboard at the bottom (if you're not using an external keyboard instead), and that's it. The menu bar at the top lets you open, duplicate, or share files, and also shows two ever-present indicators—the total time required to read the open document, and the number of words in it. If you tap to place the cursor within the text and then don't type for a moment, a blue timestamp appears in the right margin showing approximately how long it would take to read your document up until that point.
Thus, in many ways, iA Writer is an easily-distracted writer's dream. The constant time reminder keeps you on task; the word count lets you know whether you're approaching your target.
If singular attention is your goal, a unique Focus Mode may help. You tap a lock icon in the header to toggle Focus Mode. Focus mode removes the header, along with the scroll bar, the ability to tap to move the cursor, spellcheck, auto-correction, and copy/paste. It also grays out all the text save for the current three lines of text you're writing in. It's obviously not a mode to leave enabled at all times (since it prevents you from navigating the document in full), but it's a great tool in the writer's arsenal when you feel blocked as you attempt to finish writing a paragraph or section.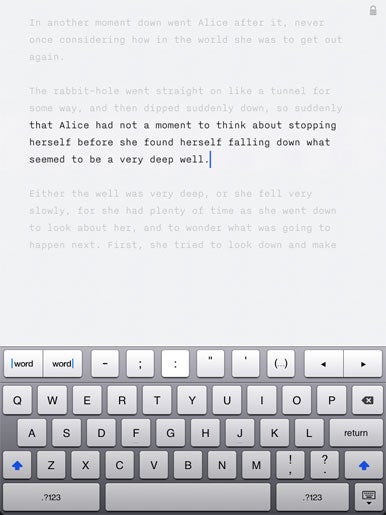 The on-screen keyboard includes a couple extras atop the iPad's standard display. There are virtual keys in place to skip forward and backward one word at a time, a few frequently used punctuation marks, and left and right arrow keys. I found those all useful when using the virtual keyboard, though I too frequently tapped the right arrow at the top edge of the keyboard when I was aiming for the Backspace key.
Obviously, apps like Apple's own Pages offer far more true word processing than a text editor like iA Writer. But there are some features in iA Writer that offer dramatic improvements over Apple's offering. As you're editing a document, you can tap on its name in the title bar to rename it. (Too many other iOS writing apps force you to leave your document to change its name.)
iA Writer also sports a clean, well-designed monospace font called Nitti Light, which was designed explicitly for the iPad. It looks great.
The app also offers Dropbox integration, but I find its approach lacking. You can indeed link to your Dropbox account painlessly, but you either sync all your iA Writer files, or none of them. If you enable the Dropbox linking, the app creates a Writer folder in your Dropbox account, and all the documents you store in the app are synced to it. I'd prefer finer-grained controls. (It's especially silly that when you enable syncing for the first time, the app syncs its default "About Writer" and sample "Alice in Wonderland" documents.) Also annoying is that iA Writer doesn't sync with Dropbox automatically; you need to trigger that action manually. Your files must be in UTF-8 or UTF-16 encoding, and they must be named with a .txt extension; plain text files ending with an extension like .markdown or .html won't appear.
I like iA Writer a lot. I appreciate its attempts to help writers focus. Of course, it's an iPad app, and there's a glistening Home button present at all times that's eager to help distractible writers procrastinate the day away with just a tap, so I wouldn't suggest you assume that iA Writer could cure your focus problems. But it's an elegantly simple way to write on the iPad, clearly built with writers' needs in mind. With better Dropbox integration, the app could go from good to great.
[ Lex Friedman is a frequent contributor to Macworld.com]