Editor's Note: The following review is adapted from Five Star Apps: The Best iPhone and iPad Apps for Work and Play by Glenn Fleishman. (2010, Pearson Education and Peachpit Press).
Labyrinth 2 HD from Illusion Labs is perhaps the apotheosis of tilt-and-balance games that mimic old-fashioned wooden mazes through which you must carefully thread a ball. It's fun, it's a little silly, and it defies physical reality—all good elements for a video game.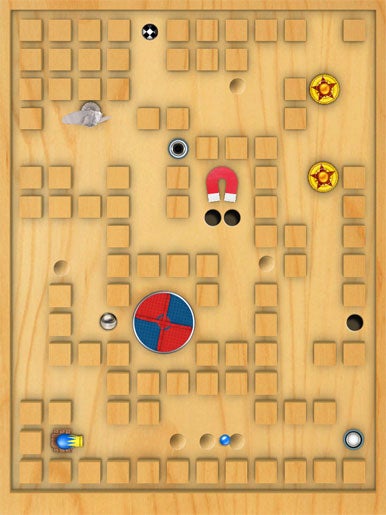 Defying reality is part of the digital advantage: you can have thousands of different designs, and features that no wooden game could offer. This includes a button that, when crossed by the virtual ball, splits it into two smaller balls. Magnets, fans, bolts blocking entrances (with buttons to roll over to release them), and other elements are scattered throughout.
The gameplay also includes cannons, some of which fire balls that destroy your metal ones, while others fire shots that act as additional elements to avoid or bounce off.
If the huge number of levels included isn't enough to challenge you, Illusion Labs offers online iPhone/iPod touch and iPad level editors which you can use to create and save your own levels.
Labyrinth 2 HD also supports multiplayer games over Wi-Fi and Bluetooth with up to four players competing.
[Glenn Fleishman is a senior contributor to Macworld.]