Amazon on Tuesday unveiled its long-rumored movie streaming service. Amazon Prime members—the ones who pay $79 per year for free two-day shipping and discounted overnight shipping—can now stream more than 5000 movies and TV shows.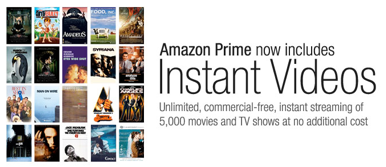 Much like Netflix's Watch Instantly service, Amazon's video-on-demand offering already integrates with numerous Internet televisions and set-top boxes, including Roku devices. Of note, however, is that there's currently no way to watch Amazon video with Apple TV or iOS devices.
Amazon's video streaming options will look familiar to anyone who's perused Netflix's own streaming catalog, with a focus on older titles, though newer releases like The Girl With The Dragon Tattoo trilogy are also available. Each services streams movies that the other doesn't; Amazon, for example, offers "Mister Rogers' Neighborhood," and Netflix streams more than 10,000 movies—double Amazon's initial offering.
The Prime Instant Videos service is available only to paying Amazon Prime customers—notably excluding free participants in sub-Prime programs like Amazon Mom. Amazon's launch of its new membership-based streaming service, coupled with Redbox's recent announcement that it too plans to enter the streaming game suggests that Blockbuster's bankruptcy woes won't be ending anytime soon.
Netflix introduced its $8/month streaming-only plan in November 2010—that works out to $96 per year, versus Amazon's $79 price point, which of course also includes the free two-day shipping incentive.