Xerox has released two new laser printers and a multifunction model, all aimed at helping small and medium-sized businesses create professional-looking documents at an affordable price point.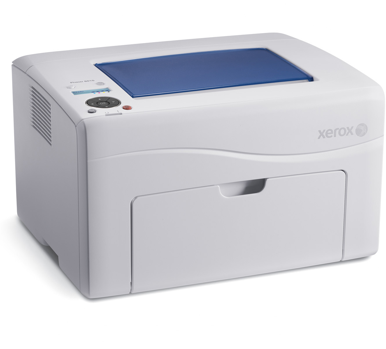 The $299 Xerox Phaser 6010 color laser printer (pictured) boasts a small, lightweight design and can print up to 12 color pages per minute (PPM) and 15 black and white PPM. It has a paper capacity of 160 sheets and can handle a variety of custom media and sizes, including labels, card stock, and envelopes.
The $399 Xerox Phaser 6500 color laser printer kicks things up a notch with speeds of 24 PPM in both color and black and white, and a paper capacity of up to 500 sheets. It uses small, high-capacity cartridges that save on storage space as well as on environmental impact—Xerox claims these cartridges produce up to 80 percent less waste than comparable color devices. A $499 model that enables two-sided output is also available.
Finally, the $649 Xerox WorkCentre 6505 adds copy, scan, fax, and digital workflow capabilities to the mix, allowing companies to manage documents more effectively with features like Scan to E-mail, Network Scanning, Direct Scan to Applications including Optical Character Recognition, and a Scan to USB memory device. A $749 model that supports two-sided output is also available.
The Phaser 6010, Phaser 6500, and WorkCentre 6505 all print at a maximum print resolution of 600 by 600 by 4 dpi and are available now through Xerox resellers, dealers and concessionaires.
Phaser 6010
Price When Reviewed:
$222.37
Phaser 6500/N
Price When Reviewed:
$310
WorkCentre 6505/DN
Price When Reviewed:
$749
WorkCentre 6505/N
Price When Reviewed:
$505