Back when music was confined to a physical medium, audio enthusiasts would pay top dollar for high quality record, CD, and tape players made with the finest components. Those days are generally behind us, but if you think iTunes is the be-all and end-all of digital music playback, the folks at Audiofile would have you think again. The company's new premium digital music player, Fidelia, is aimed toward the discerning listener and offers a variety of tools to maximize your listening experience.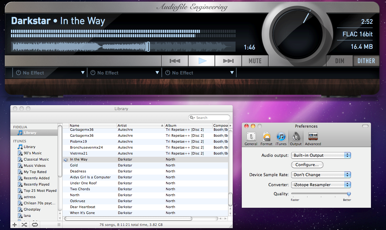 Fidelia sports a sleek interface that pays tribute to the premium stereo systems of the past, while offering the intuitive modern-day controls we expect in the digital age. The interface displays track details, stereo levels and audio waveforms, and offers four sizing options to suit your needs. Along with letting you create your own playlists, Fidelia can also sync with iTunes, letting you easily transfer as many or as few of your iTunes songs and playlists as you'd like.
One of the biggest advantages Fidelia offers over iTunes is its ability to handle a wide variety of audio formats. In addition to iTunes-friendly AIFF, WAV, AAC, Apple Lossless, it also can play Ogg Vorbis, FLAC, and CAF files. Fidelia not only plays these formats, but lets you convert your existing files to any of the above as well.
You can further enhance your listening experience by adding up to three audio effects at playback. The player supports Audio Unit (AU) and VST effects plugins, including native Apple AU-based equalizers, compressors, filters, reverb, and more.
Audio elitists needn't be concerned with Fidelia's audio quality, as the program sources its digital signal processing (DSP) from iZotope, a company renowned for its pro audio plug-ins and DSP software. Fidelia includes various other technical features that are a bit too dense to get into here, such as iZotope 64-bit SRC and iZotope MBIT+ technology, but let's just say that Audiophiles should be pleased with the options this player offers them.
Fidelia is available now for $20. An Advanced version, which is a $50 add-on to the base Fidelia, adds two additional features: the abilities for the app to take exclusive control of your computer's audio system (referred to as "Hog mode"), and to customize the output sample rate conversion and dither using iZotope's advanced options. A Fidelia remote app is also available at the iTunes store for $10.