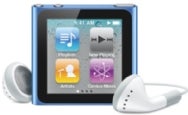 Although iOS devices seem to get all the attention these days, it's good to know that Apple hasn't completely forgotten about the other members of the iPod family. The company has just released iPod software update version 1.1 for the 6th generation iPod nano, which adds two new features to the tiny touchscreen player.
New in the 1.1 software are the abilities to completely turn off the iPod (rather than just put it to sleep) and to control music or radio playback using the Sleep/Wake button.
Shut down
Previously, holding down the Sleep/Wake button for several seconds would force the nano to go to sleep. Now, you can turn it off instead (as long as it's not charging or connected to a powered accessory or cable, that is). Apple indicates that shutting the nano off will cause the following:
Music or other audio that's playing on the device stops.
Paused radio clears.
If a slideshow is playing on the device, it stops.
If a voice memo is being recorded, it stops and saves.
The pedometer stops.
Nike + workout data stops and saves.
However, if you turn the nano back on within five minutes of when it was turned off, it will remember your music playlist and what was playing. When it's off, you also won't hear or be alerted to any alarm or reminder set on the iPod.
Control playback
You can also now use the Sleep/Wake button to either skip to the next track or radio station, or pause or play the current track or live radio, all with a double-click. To set it up, Apple lists the following steps:
On the Home screen, tap Settings.
Tap Music, and then tap the Sleep/Wake Button.
Tap the On/Off switch.
Tap either Next Track or Play/Pause.
16GB iPod nano (sixth generation, late 2010)