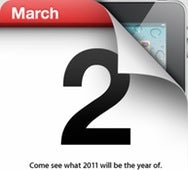 Ladies and gentlemen, start your mass speculometers: Apple has announced a special event to be held next week in San Francisco.
The event, which is scheduled for 10 a.m. Pacific on March 2 will be held at the Yerba Buena Center for the Arts, a venue Apple has used for a number of prior launches, including the original iPad. The invitation received by Macworld sports a peeled-back calendar page for the date of March 2, with the top corner revealing what appears to be an iPad, and text reading "Come see what 2011 will be the year of."
Rumor has run rampant in the past few days that such an event will herald the introduction of the iPad 2. All Things Digital's Kara Swisher correctly predicted the event's timing on Tuesday; in the post, she also pegged the event as the iPad 2 launch.
No matter what the event brings, Macworld will certainly be on hand to provide live blow-by-blow coverage.