Cyberspace, an alternative browser for the iPhone and iPad, is continuing to flex its muscles, gaining new features and integrating more services in its quest to turn heads away from Mobile Safari.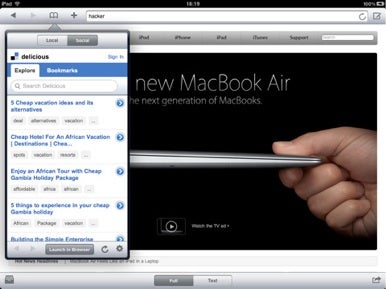 New in Cyberspace 1.2 is "bump to share," a feature for quickly sharing the current Web page between two iOS devices (inspired by a feature of the popular Bump app). Cyberspace can also now import your bookmarks from a desktop browser via iTunes File Sharing and export them to more services, including Evernote and Posterous.
A new Readability bookmarklet, support for Zootool, and access to your unread Instapaper items from Cyberspace's unique reading queue complete a round of new service integrations. There is also support for shutup.css, a browser stylesheet (and Safari extension) created by Panic co-founder Steven Frank that disables comments on a variety of Websites, including YouTube, Boxee, and Slashdot.
These new perks are in addition to an already healthy feature set, which includes support for TextExpander, Pastebot, Delibar, Markdown, and OmniFocus; sharing to a variety of social media services like Twitter, Facebook, Tumblr, Google Reader, and others; multi-touch gestures; a scratchpad for jotting down Web notes or ideas; and more.
Cyberspace is a universal app for iPhone and iPad that requires iOS 3.2 or later, and it's available now for $3 in the App Store.