TouchUp for iPad, a $3 app from RogueSheep, is a genuinely fun-to-use photo manipulation tool. Using your fingertip and the app's cleverly simplified interface, amateur photographers can tweak their photos in myriad ways. The app packs in more than a dozen effects, and you add and adjust them to your photos in any combination, without any fear of destroying the original. If you're intimidated by Photoshop, or even intimidated by iPhoto's photo editing controls, TouchUp may provide the right mix of powerful functionality and ease-of-use that you crave.
The first step, of course, is getting the photo you want to work with. You can open an image from your iPad's Photo Library, or you can import new photos from Flickr's "recent photos" stream (though oddly, not your own Flickr photos). I don't keep all my photos on my iPad, so getting photos into TouchUp tends to involve grabbing them from a Website where I've already uploaded the originals, or e-mailing them to myself. I'd welcome Dropbox integration.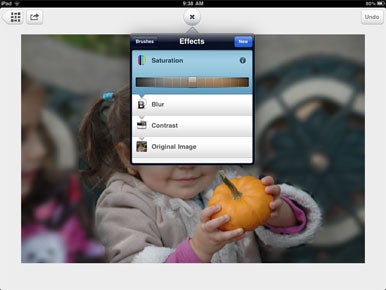 Once you find the photo you'd like to use—and note that the app works better with larger source photos—you choose effects from the popover menu. You can choose from contrast, brightness, temperature, black and white, sepia, hue shift, blur, saturation, and tint; more effects are available via in-app purchases.
I started with a photo of my younger daughter Sierra holding a pumpkin. Her big sister Anya was cut off in the corner behind her, and I felt the ornate bench that the girls were sitting on distracted from Sierra. First, I added a Contrast filter layer, using a slider to adjust how much contrast I added. TouchUp provides a live preview with each slider adjustment, so you can see exactly how the effect will impact the photo.
Next, I added Blur. Instead of a slider, the Blur effect lets you choose among five degrees of blurriness. As with all effects in TouchUp, when you first apply Blur, it blurs the entire photo. That's when TouchUp's magic really begins. I didn't want the entire photo blurred, just the parts without my daughter. Once you've added an effects layer to your image, TouchUp lets you erase (or re-draw) that effect with your fingertip. I started "erasing" the Blur from the photo's background. When I'd finished my first pass, I used two fingers to zoom in and fine-tune my work, drawing back in the blur where I'd erased it unintentionally.
It's OK to make mistakes, since your original photo remains unchanged. Unfortunately, however, TouchUp supports only a single level of Undo. If I accidentally blurred Sierra's face, and then added Blur again elsewhere before tapping Undo, I'd be forced to delete the entire effects layer and start again.
After I was happy with the Blur, I added a Saturation filter. By dialing down the Saturation and then erasing the Saturation effect from Sierra and her pumpkin, I gave the blurry background a more faded look, helping to further focus the photo.
While playing with the Saturation effect, I noticed that by dialing it in the other direction, I could make Sierra's pumpkin almost radioactively orange. I added a second Saturation layer, erasing it everywhere but the pumpkin itself. At first, I made it too orange, but TouchUp lets you go back and adjust your settings for all the effects you apply, or delete layers outright. You can even toggle the visibility of what professionals refer to as the "mask," which shows precisely where a given effect is applied. When I did that, I saw that I accidentally had left part of Sierra's face and several sections of the background over-saturated, and was then able to erase the Saturation effect in those spots easily.
I've manipulated many photos with TouchUp, and it's always fun. My results don't always look entirely professional, but that's more a reflection on me than on the app itself. Most of the time, I'm far happier with my touched-up version of the photos than the original, which is exactly the point.

You can save your finished masterpieces to the iPad's Photo library, or share them via e-mail, Facebook, and Twitter.
Beyond the limited photo import, I have few complaints about TouchUp. I find that the zooming feels a bit choppy, and there's no obvious way to revert back to the default view after zooming in. I did encounter a few crashes in my testing, which was annoying, but I mercifully never lost work since TouchUp saves as you go. A recent update seems a bit more stable.
The app includes numerous video tutorials to help explain its feature set. Once you get started, though, you'll become a TouchUp expert pretty quickly. Despite a few shortcomings, TouchUp's plenty of fun, and the results are often superb.
[ Lex Friedman is a frequent contributor to Macworld.com. He is somewhat photogenic.]