DirecTV announced on Wednesday that it's working on an iPad app that will let users of the satellite TV service browse shows, set up recordings, and control their DVRs using Apple's tablet. The company already has an iPhone app that lets you view listings and schedule recordings.
DirecTV hasn't given an official release date for the app, except to say that it's "coming soon" on a special section of its Website, but the app promises to basically turn your iPad into a giant remote control.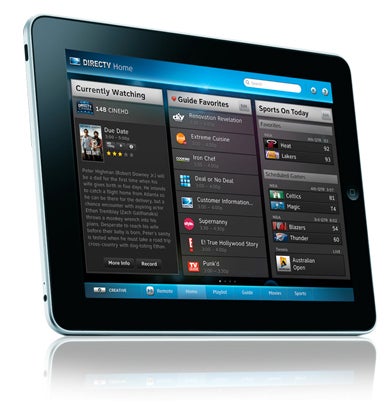 According to the DirecTV page, the app will launch at a home screen that gives you the latest info on shows and movies you're watching, upcoming listings for your favorite shows, and even a sports roster—complete with scores.
You'll also be able to program your DVR from your iPad by scheduling or canceling recordings, control DVR playback of recorded shows.
Unlike the apps from Dish Network, however, it doesn't appear that DirecTV will allow you to stream recordings from your DVR to your iPad.