Apple's board of directors won't be required to publicly disclose its plans for CEO succession, after shareholders voted down a proposal at Wednesday's annual company meeting. The proposal had been the focus of much of the attention prior to the shareholders meeting, which seemed to be as much about the health of absent CEO Steve Jobs as it was the health of Apple.
Still, during a question-and-answer session with investors, Apple executives tackled other issues surrounding the company, including dropping some hints about possible updates to Apple's iOS devices for the just-announced press event slated for next week.
Succession plan
Steve Jobs may not have been in attendance Wednesday, but the CEO remained the central item of discussion at the morning's meeting. In light of his leave of absence due to medical reasons, his health attracted not only a fair number of questions, but also the interest of several television crews stationed outside the company's headquarters.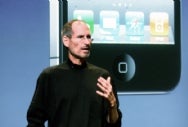 With a timetable for Jobs' return to the CEO position uncertain, the shareholders voted down a proposed succession plan. The proposal would have authorized Apple's board to develop internal candidates, develop criteria for the CEO position, and begin non-emergency CEO succession planning at least three years before an expected transition. The plan also called for an annual report to be produced by the Board on a succession plan to be presented to the shareholders.
Jennifer O'Dell, an assistant director for corporate affairs for Laborers' International Union of North America (LIUNA), argued for a public succession plan, citing the shareholders' need to know how "Apple would handle a CEO vacancy." The proposal, she added, would not have disclosed which candidates the company was looking at in a proposed succession plan, but would ensure the "company to be on sure footing" should the CEO position be vacated. Hewlett-Packard and Intel already have succession plans, she argued, and such a plan would be an opportunity for Apple to "stand in favor of corporate responsibility."
However, shareholders voted down the measure, according to preliminary voting totals. Apple's board of directors had opposed the succession plan proposal, arguing that it already has a formal process in place and that revealing its plans publicly would play into competitors' hands.
Even as shareholders rejected the proposal, Jobs's health was a frequent topic during the question-and-answer portion of the meeting—mostly in the form of well-wishes from shareholders. Chief operating officer Tim Cook, who is handling Jobs's day-to-day duties during the latter's absence, and Bruce Sewell, Apple senior vice president and general counsel, thanked the well-wishers, but did not elaborate further on the status of the CEO's health.
March 2 event
The shareholder meeting also featured frequent mentions of Apple's planned event on March 2, usually by Apple executives. Cook alluded to the event when discussing sales figures for the Verizon iPhone during the end of his presentation, and the subject came up again when a shareholder asked about new iPads and new iPhones staying competitive within the mobile and tablet markets.
"March 2 might give you clues," Cook replied.
Android versus iOS
Numerous questions addressed Apple's chief rival in the mobile market, Google's Android operating system.
Like Windows versus OS X, Android is perceived to being a more open operating system for developers. One shareholder asked about Android's ability to have different modules that expand its input options, something the shareholder said Apple has been slow to embrace. Scott Forstall, Apple's senior vice president of iPhone software, brushed off the suggestion and instead discussed iOS's uniqueness in the market.
Taking a shot at Google, Forstall said, "We're careful with how we expand." For Apple, he explained, it's all about ensuring capability and that the apps continue to work, even after iOS upgrades. In that vein, Forstall explained how careful Apple is in regards to viruses and that when plug-ins modify multiple apps, "it becomes hard to protect those apps."
One shareholder asked about a parallel between the battle of Android and iOS and the competition in the 1990s between Windows PCs and Mac. Phil Schiller, Apple's senior vice president of worldwide product marketing, quickly dismissed the comparison. He defended Apple's strategy in the 1990s, calling it a "great one."
As proof, he said that in the computer market, companies like IBM and Compaq "aren't around anymore" while Apple still is. More important, Schiller added, when it comes to the current competition, with more than 300,000 apps in the App Store, Apple's iOS is ahead in software. Schiller said that Apple had the opposite problem with Macs: "We can do so much better this time."
iOS in the enterprise
With consumer-friendly products like the iPhone and iPod and the discontinuation of the Xserve Mac server, some meeting attendees argued that Apple has become increasingly consumer-focused. But Cook defended Apple's commitment to the enterprise with a staggering pair of statistics: According to Cook, 88 percent of Fortune 100 companies are testing and deploying the iPhone. Meanwhile, 80 percent of Fortune 100 companies are testing and deploying the iPad. So, while Apple has become synonymous with "consumer-friendly," Apple executives believe the company's products are still making an impact on the enterprise market.
Meanwhile, the Mac has not been forgotten. Cook warned to "not underestimate the Mac"—CIOs are diversifying, he noted, and most work environments are finding Macs to be useful to have around the office, especially when there's a virus that hits Windows PCs but not Macs.
Other votes
Shareholder votes went largely as expected, with all seven members of the Board reelected, and Ernst & Young ratified as the company's independent registered public accounting firm for 2011. Yet, despite the Board of Directors' recommendation against it, the shareholders voted to adopt a majority voting standard for director elections.
Sponsored by the California Public Employees' Retirement System (CalPERS), the proposal will ensure that director "nominees shall be elected in uncontested elections by the affirmative vote of a majority." Apple's current rules allow a director to be elected only with affirmative votes, as "withheld" votes have no effect. CalPERS argues that this makes it "impossible to defeat director nominees who run unopposed." Anne Simpson, senior portfolio manager for corporate governance at CalPER, said that the proposal will ensure "the board is held accountable."
"Responsible capitalism relies on transparency," said Simpson, adding that the proposal, which grants shareholders more power over elections, would "keep Apple fresh."