On Wednesday, Her Interactive, a game developer for the Mac and iOS platforms geared towards young women and teenage girls, launched the first in a new series centered around iconic detective, Nancy Drew. Available now on the App Store, the iPhone version is selling for $3 and the iPad version is selling for $10.
To date, Her Interactive has released 24 point-and-click adventures starring Nancy Drew, but Shadow Ranch, their latest, marks a major departure for the developer. Targeted towards readers in the 9 to 14 age range, this new Nancy Drew series featured stories that are more like "interactive books," explained Her Interactive President and CEO, Megan Gaiser. These "gamebooks" combine interactive text with hidden object segments, treasure hunts, and mystery solving.
While the focus will be on a story that has some "choose your own adventure" features, Shadow Ranch will offer gameplay elements that will demand a variety of skills. Players will have to find clues, solve puzzles, and complete over a dozen hidden-object games within the app.
In one puzzle segment, a user's ability to navigate a maze is put to the test. When Nancy must find her way out of some abandoned cliff dwellings, the user must create a path for Nancy to follow in order to exit correctly.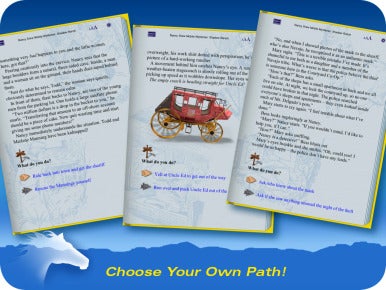 This new series also serves an educational purpose, offering definitions and explanations for certain highlighted words while reading the story. In addition to hidden object segments in richly-detailed environments, Shadow Ranch offers word jumbles that help move the plot along. For example, to win a horse race, the user must unscramble a number of words before time runs out. If the user is successful, the user gets one result in the text. If they fail, the story takes a different direction.