Editor's Note: This story is reprinted from GamePro. For more iPhone game coverage, visit Gamepro's iPhone section.
Although it originally gained recognition as one of the six winners of the "One-Button" contest that was held at GDC 2010, Honeyslug's Poto and Cabenga was only available as an online Flash game until its iOS debut a week ago. The game follows a girl named Poto and her trusty steed Cabenga as they attempt to survive in a side-scrolling action game that has you controlling both characters at once.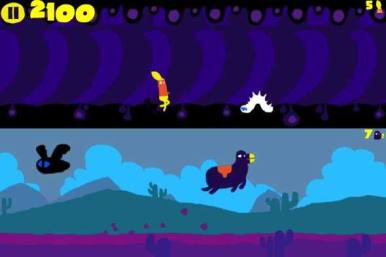 Poto gets separated from her horse (or is it a cow?) when she's eaten by a monstrous bird, and you'll control her on her exploits through the belly of the beast on the top half of the screen while Cabenga dodges baddies below. Tapping the screen will cause Poto to jump, and letting go of the screen will cause Cabenga to jump. Monsters constantly stream from the right side of the screen in different patterns, so you'll have to time your taps (and tap releases) to manage both characters at once if you want to avoid a swift death.
Poto and Cabenga is one of those rare games that mixes up the formula so effectively that it really screws with your head. Watching and manipulating both characters at once is a bit like trying to rub your belly and pat your head at the same time, but it's a fun challenge. Enemies attack in specific patterns that are designed so that it's always possible to successfully navigate both characters at once, but you'll have to get very good at the game to make it to the point where you aren't thrown off by certain types of patterns.
It's worth mentioning that this game's simplistic art style is really smooth when in motion. The big, colorful fonts and pastel world really give the game personality, and it feels like the perfect compliment to the game's humorous tutorial. While Poto and Cabenga isn't the most deep or feature-rich game on the App Store, it's charming and challenging enough to earn a spot on your iDevice.
That said, Poto and Cabenga gets really hard, really quickly, and it doesn't let up. Ever. I really like the game (despite the fact that I continue to be terrible at it), but I can certainly see how some people might be put off by its steep learning curve.
Is it worth the price of admission? Absolutely — Poto and Cabenga is a challenging and charming game that's more than worth its $0.99 asking price.