Much to the disapproval of my college English professors, I adored The Da Vinci Code and the rest of Dan Brown's mystery series. This inclination for all things globetrotting and mythology made me excited to take Revolution's latest adventure game for a spin. Unfortunately, Broken Sword 2: The Smoking Mirror provides less of a cultural education and more something sparkly and pretty to look at. The game is the latest installment in the Broken Sword series and features leading characters George Stobbart and Nico Collard as they travel around the world trying to figure out why they were the targets of attempted murder and kidnapping, respectively. The game's graphics are phenomenal, and as an added bonus the $6.99 price tag includes a digital comic by Watchmen co-creator Dave Gibbons.
Regardless of appearance, though, Broken Sword 2 is dull, weighed down by cliché dialogue and a lack of action.
The story begins in Paris as Nico and George approach the lavish home of a local Mayan art professor with plans to ask him about a strange black stone. Upon arrival, Nico is kidnapped and George is tied and left to die as the house is set on fire. After this long cutscene, players are thrown into the game, forced to uncover clues and piece together how they're related.
One of the reasons Broken Sword 2 is a snoozefest is that there are only so many actions you can perform in the game. The main motion used is tapping and holding your finger against the screen, then dragging it around the scene to see which items you can interact with. Small blue circles will flash to indicate which people and things can be spoken to or collected. You tap an area of the setting when you want George or Nico to move to that position. A few times in the game, you can open George's knapsack to use one of the previous items and combine it with something else. For example, you can jam a fishhook into a loud clanking fan to stop the propellers and eavesdrop on the villains. Needless to say, clicking on objects and selecting people to talk to can get dull and fast (and the tired, melodramatic dialogue doesn't help). On a similar note, George's internal monologue is horrible. Normally, likability of a character wouldn't play into whether I enjoyed a game or not, but you're stuck with George's obnoxious commentary the entire game through.
The one saving grace in this game is that Broken Sword 2's cartoon visuals are impressive. Within the game, you travel through a diverse range of locations. Whether you find yourself on a run-down dock or in an elaborate rainforest tree house, there's always an immense amount of care and detail put into the images. What's more, as you guide George or Nico across the settings, the panning across the screen is seamless. The 3D graphics are also complimented by the distinctive facial expressions of the characters during their interactions.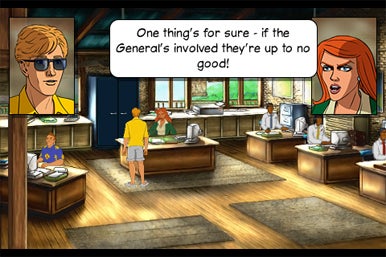 Overall, I found Broken Sword to be more of an interactive comic than an adventure game. There are few things you can do to control the outcome of the story and if you mess up and find yourself caught or killed, you simply start the scene again. Technically, you can choose what to say to the other characters, but the impact on the overall story is minimal. I suppose I'd recommend Broken Sword: The Smoking Mirror for those looking for a game that requires little effort, as you can sit back and let the fictional characters do all the heavy lifting while you enjoy the graphics, but for anyone looking for a real adventure game: keep searching.
[Stephanie Kent is an editorial intern for Macworld.]