Editor's Note: The following article is reprinted from CIO.com. Visit CIO's Macs in the Enterprise page.
The Project: Become the first major bank to develop a mobile deposit application and make it available to USAA's 5 million customers.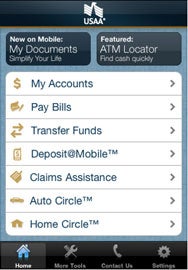 The Business Case: Half of the mutual insurance and financial service provider's members are active duty military personnel. "The reason for our existence is to help facilitate the financial security of military families. And military families literally live all over the world," says Greg Schwartz, CIO and senior vice president of IT at USAA. "Our members told us that we needed to provide deposit services wherever they may be located, using whatever device they might have available." With just a single physical USAA branch at its headquarters in San Antonio, being a first mover on mobile deposits made sense.
First Steps: Most U.S. banks have image-based check-processing systems. In 2006, USAA was the first to use that capability to let customers deposit checks from home using an Internet connection and a scanner. The program, Deposit@Home, helped to increase the bank's net deposits by 10 percent. But usage leveled off by 2008; scanned checks now account for 25 percent of deposits.
Schwartz and his team thought they could boost remote deposits again by taking advantage of smartphone cameras. An iPhone app, which launched in August 2009, includes a feature called Deposit@Mobile that lets users take pictures of their checks for deposit. Customers can also use the app to check account balances, transfer funds, pay bills, and trade stocks. USAA reused as much functionality as possible from its scanner-based system.
Developers prioritized ease of use and reliability. Customers select an account for the deposit, enter the check amount, and take a picture of the front and back of the check. The deposit is available as soon as the system approves the image. If the image is too dark, blurry or off-center, the app instructs the user to take another shot. If the image remains illegible after several attempts or the check is suspicious (if it has, for instance, an invalid routing number) the app instructs the user to mail the deposit.
Deposit@Mobile uses a secure Web connection for image and data transmission. USAA does not store check images or member information on the mobile device, and the company tests all software updates for security vulnerabilities. Early last year, the company added two-factor authentication for all mobile transactions.
By the end of 2010, 1 million-plus USAA customers had deposited more than 3 million checks totaling $2 billion. Mobile deposits, now also available on Android phones, accounted for 14 percent of USAA's monthly deposits. Next up: apps for the BlackBerry and tablets.
What to Watch Out for: Mobile deposit requires adequate light and a good signal, neither of which USAA can control. So it concentrated on what it could facilitate, like making the check easy to frame and shoot, Schwartz says. "We were somewhat limited in the beginning by the quality of the camera on the phone but have refined and improved the image [capture] to provide a better than 80 percent success rate."
IT staff need freedom to test new ideas, Schwartz says. "Then we support our innovations with rigorous process controls to make sure the final product is always safe, always available, and always secure."
[Stephanie Overby is a freelance writer based in Massachusetts.]